This post You Must Prepare for this Imminent Rally… Here's How appeared first on Daily Reckoning.
Time's of the essence here, so listen up…
One of our "trades of the year" is about to get a whole lot juicier…
That's because it's about to get a powerful new stimulus. And this "QE" will give you the chance at double-digit gains within days. That's right – days.
You're about to see exactly why this dramatic rally will occur—and how you can get in on the action before anyone else catches on…
As I'm sure you know, the stock market's been choppy this year. Just look at the major averages. Nothing but whitecaps. This back-and-forth chop is making traders pull what's left of their hair out. Every breakout has stalled. And breakdowns have failed to take the market lower.
But there's one market niche about to break higher. I'm talking about one of our official Rude trades of the year – small-cap stocks.
These little engines that could have chugged higher four straight months. The Russell 2000 small-cap index is up more than 6%. Meanwhile the S&P has gone nowhere.
And this trade is about to get another shot in the arm…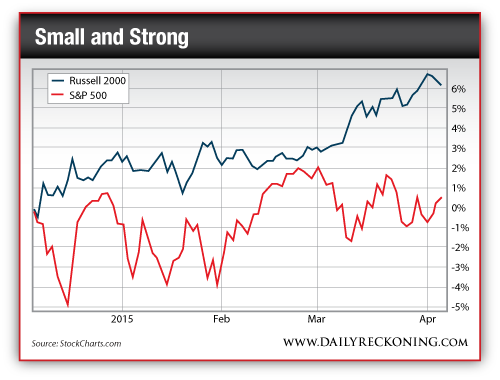 See, another bullish catalyst is brewing for small stocks right now. Earnings season is right around the corner. And a lot of big, bad hedge funds that bet against small stocks recently are bailing on their short positions before first-quarter earnings come out.
As Bloomberg reports, "Hedge-fund managers, a group of investors who lost faith in small-cap stocks last year just before they plunged, are now shedding their bearish bets prior to first-quarter earnings. Large speculators pared their short positions in futures tied to the Russell 2000 Index to around the lowest level since April relative to long ones, according to data from the Commodity Futures Trading Commission."
That's right. The hedgies are scared to bet against small-cap stocks with earnings coming up. Why? A lot of it has to do with a strong dollar. A strong dollar means larger companies with more international exposure could take a hit this earnings season because weaker foreign currencies hurt their revenues. That should shift investors' focus to small stocks that do most of their business stateside.
That means a lot of investor money will be flowing into small-caps. And that flood of new money will drive up their stock prices. That's what we're counting on.
Small-caps have mounted an underground insurrection over the past several months as I've already showed you. I see small stocks retaking the outperformance throne after playing second fiddle in 2014. And the big move begins now…
Regards,
Greg Guenthner?
for The Daily Reckoning
P.S. You need to think small for big gains. If you want to cash in on the biggest profits this market has to offer, sign up for my Rude Awakening e-letter, for FREE, right here. Stop missing out. Click here now to sign up for FREE.
The post You Must Prepare for this Imminent Rally… Here's How appeared first on Daily Reckoning.