Jay Taylor: Local review site Yelp (NYSE:YELP) released yet another disappointing earnings report after the closing bell Wednesday.
The most recent Yelp earnings report is just the latest major disappointment for a company that seems to be unable to catch a break.
The stock plummeted 23% Thursday.
The last time I wrote about Yelp was back in February, just days after the release of its similarly disappointing fourth-quarter 2014 earnings report.
The stock fell more than 21% the day after that report.
At the time, I used the chart below to illustrate the major issues facing the company.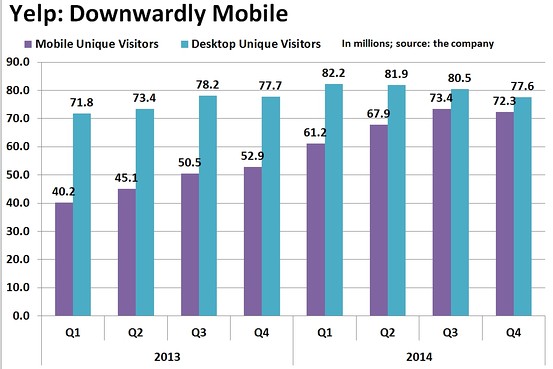 The latest figures are even worse, with only 63 million unique desktop visitors and only 72 million unique mobile visitors during the first quarter.
Yelp's business model is essentially to sell services and advertisements to businesses wishing to interact with their customers, or people in their area of operation who search for specific keywords.
Looking for a cheap place to get Indian food? Perhaps the first search result will be an Indian restaurant that has paid Yelp for the keyword.
There's one major problem with this business model: it requires a healthy flow of new and active users for advertisers to take an interest in Yelp's ad platform. As you can see from the chart above, Yelp is losing users.
Yelp recently acquired food delivery company Eat24 for $75 million in cash plus 1.4 million Yelp shares. Surely the idea here was to capture some of the delivery revenue from customers who are already using Yelp to find restaurants and to place orders for delivery. Theoretically, this will also expand Eat24's reach from 20,000 restaurants to the 1 million restaurants Yelp claims to have some relationship with.
By vertically integrating the process of finding restaurant options, choosing between them based on attributes and reviews, ordering and paying for delivery and leaving a subsequent review, Yelp is adding to its business scope and creating a neat service.
Unfortunately, Yelp's push into delivery and an earlier push into Europe via several acquisitions may be too little, too late.
The latest Yelp earnings report was an all-around disappointment.