Chris Ciovacco: The Fed radically altered their outlook for interest rates last week, something that may have a significant impact on the stock market in the coming months.
Keeping in mind the Fed's shift in early February helped spark the current rally in stocks, last week's developments improve the odds of the S&P 500 breaking out to new highs. From The Wall Street Journal:
"Wednesday's moves marked a stark reversal from just a few weeks ago, when several Fed officials, including Chairwoman Janet Yellen, dropped strong hints they might raise rates in June or July. Instead, she emphasized the central bank's uncertainty about when they'll act and where rates are headed in 2018 and beyond."
Fed Guidance Links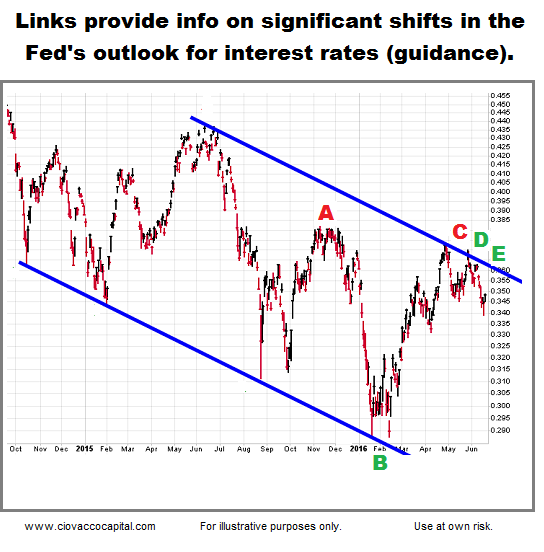 It is probably best to watch the video first, then come back and explore these links in the context of the chart above.
Point A: Four Rate Hikes In 2016
Point B: Little To No Hikes In 2016
Point C: June Hike Firmly On The Table
Point D: Yellen's New Normal
Point E: One Hike In Next 30 Months
Video Explains Why This Week's Shift Is Important For Stocks, Bonds, And Commodities
This week's stock market video helps us understand why the Fed's new stance calls for flexibility, as well as, risk management contingency planning.
After you click play, use the button in the lower-right corner of the video player to view in full-screen mode. Hit Esc to exit full-screen mode.

Yellen's New Normal
In last week's press conference, Janet Yellen described the current slow-growth environment as the "new normal", which is a significantly different narrative than the one the Fed has been promoting in recent years.
Powered by WPeMatico