Kyle Anderson: CBS's "60 Minutes" program on Sunday examined the Sony hack from November 2014. The segment detailed just how ill-prepared most Americans and corporations are for cyberattacks.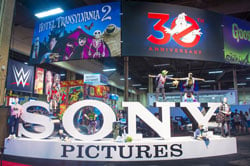 The interviews also underscored one of our favorite ETF trading trends of 2014: cybersecurity ETFs.
In the Sony attack, more than 3,000 computers and 800 servers were destroyed. Even worse, company secrets, unreleased movies, and the personal records of more than 6,000 employees were released.
And these attacks will become more common, not less common.
"We're going to see more and more companies hacked, we're going to see a deeper level of destruction," Cylance's Vice President of Strategy Jon Miller said on "60 Minutes" Sunday. "It's going to get worse before it gets better."
As the segment pointed out, it only takes one employee accessing an infected file to contaminate an entire corporate network.
Miller also said the number of people who could perform a similar attack is growing rapidly, perhaps even approaching 5,000. And "not all of them are in friendly countries," he said.
But most concerning of all is the fact that the Sony hack was not a relatively advanced cyberattack.
"My favorite analogy is: the malware that was used to attack Sony is like a moped, and the malware being used by United States intelligence agencies is like an F-22 fighter jet," Miller continued.
We've been highlighting the growing prevalence of cybercrime all year at Money Morning,because it's presenting us with one of the best ETF trading opportunities on the market.
"The money spent on cyber defense represents one of the highest profit potentials of anything I've encountered," Money Morning's Small-Cap Investing Specialist Sid Riggs said. "And the growth numbers spotlight not just one company but an entire sector that will have the wind at its back for the rest of our investing lifetimes."
Here's the profit potential we're seeing…
Add This Tech Pick to Your ETF Trading Strategy
"More than $95 billion will get spent this year alone trying to prevent the inevitable assault on your private information and confidential records," Riggs said.
By 2019, cybersecurity spending will reach $155.74 billion according to market research firm MarketsandMarkets. That's a 63% growth rate.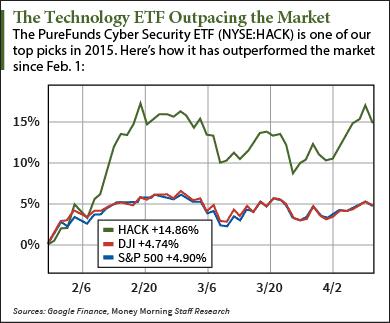 Every year, cybercrime costs the global economy more than $575 billion.
"That's more than 3% of America's 2014 GDP, and it's creating a lot of pent-up demand from countries, companies, and individuals determined to protect themselves," Riggs explained.
The best ETF trading approach for investors now is to buy into the PureFunds ISE Cyber Security ETF (NYSE Arca:HACK). Instead of picking specialized companies with volatile stocks, HACK offers a broad play on the entire industry.