From Chris Ciovacco: From a technical perspective, it's difficult to paint a bullish picture of the S&P 500 in the short term.
A Tale Of Two Markets
The two S&P 500 (SPY) charts below paint a starkly different picture from a risk-reward perspective. On June 27 (top), the S&P 500 was below prior resistance, inside the long-term trading range, below the 50-day, and below the 200-day. As of July 22, the S&P 500 was above prior resistance, above the long-term trading range, above the 50-day, and above the 200-day.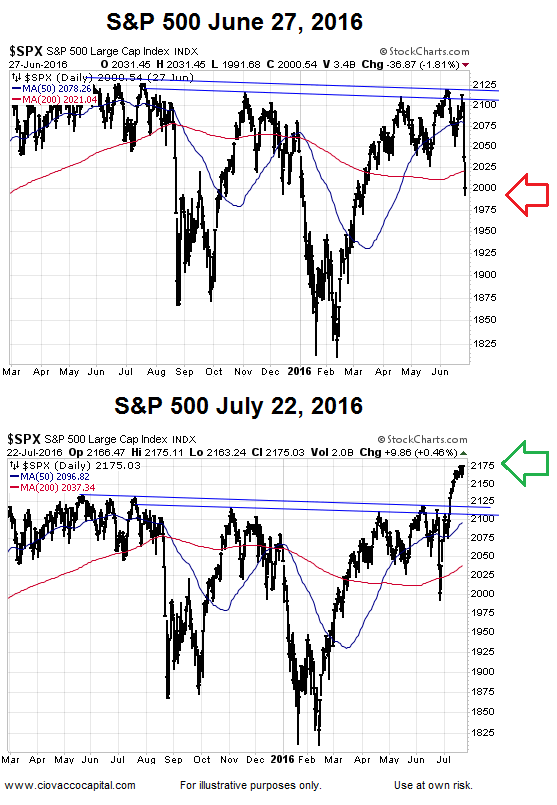 Even if the S&P 500's breakout above 2,134 holds, some "give back" or even a retest of prior resistance may be needed to bring in additional "waiting for a pullback" buyers.
What Messages Are Being Sent By The Markets?
This week's video breaks down the fundamental messages being sent from recent action in stocks (VTI), bonds (TLT), and precious metals (GLD). The messages from this diverse set of asset classes shed light on investor perceptions about the economy, valuations, earnings, central banks, and global debt.
The SPDR S&P 500 ETF (NYSE:SPY) fell $0.76 (-0.35%) to $216.49 per share in Monday afternoon trading. The SPY has gained 6.15% year-to-date.
This article brought to you courtesy of Ciovacco Capital.
You are viewing an abbreviated republication of ETF Daily News content. You can find full ETF Daily News articles on (www.etfdailynews.com)
Powered by WPeMatico