This post Why Housing Is About to Bust Loose — and How to Prepare appeared first on Daily Reckoning.
Think I'm crazy for making homebuilder stocks one of our "trades of the year?"
Then I've got some company in the loony bin…
Zach Scheidt, our income guru here at Agora Financial, also says housing is getting ready to hit the launch pad as we head into summer.
And today I'm going to show you how to get aboard the next housing rally before it blasts off…
Zach talks about a real estate broker friend with boatloads of experience who says the residential real estate market is insanely tight these days. And that, my friend, is going to help light under a fire under housing stocks.
Here's the skinny from his broker friend:
There are plenty of buyers looking for homes, just very few quality homes available for them to buy! Every time a new buyer contacts me, we start the process of looking for a home for them. I drive the buyer all over town looking for just the right house.
But it's nearly impossible to find a nice home for sale. And when we do find a good home in the right neighborhood, someone else makes an offer before we can write a contract. I haven't seen such a tight real estate market in years!
Got that? "I haven't seen such a tight real estate market in years."
I'd say that's a pretty good sign for housing, wouldn't you? This is in the Atlanta area but the same holds true nationwide.
So why aren't there enough new homes these days to meet demand? Partly because homebuilders were reluctant to begin new construction after the real estate debacle back in 2008.
As Zach puts it, "Following the financial crisis, homebuilders faced too much risk investing money in developing a new community. They weren't sure they'd be able to sell their homes."
Meanwhile, the rental market these days is tight as a drum. And rental prices are through the roof. That spells great news for homebuilders. Zach again:
"The rental market is strong right now. In fact, the rental vacancy rate has dropped to the lowest level in decades. In the meantime, the average rates for rental houses have risen by more than 13%.
So we're now in a period of low home ownership, low rental vacancies and high rental rates. That's a perfect environment for homebuilders to start developing new communities again, and I expect to see homebuilder stocks trade higher this summer."
Me too, buddy. And for the same reasons.
Speaking of good news for housing, how's this for apples?
The U.S. Commerce Department reported that the number of building permits issued in May increased 11.8% to 1.275 million units — the most since August 2007. Almost eight years.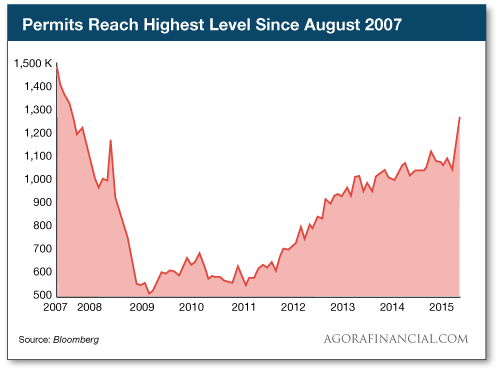 Of course, analysts predicted building permits would fall 3.5% to 1.1 million units in May. Ha! What a joke. I'll be shocked if they actually get it right one day…
Regards,
Greg Guenthner
for The Daily Reckoning
P.S. It's not too late to jump aboard the housing train. If you want to cash in on the biggest profits this market has to offer, sign up for my Rude Awakening e-letter, for FREE, right here. Stop missing out. Click here now to sign up for FREE
The post Why Housing Is About to Bust Loose — and How to Prepare appeared first on Daily Reckoning.