I predict the current investigations will widen and take a variety of twists and turns that surprise all those anticipating a tidy, narrowly focused denouement.
The theme this week is The Rot Within.
To those of us who understand the entire status quo is rotten and corrupt to its core, the confidence of each ideological camp that their side will emerge unscathed by investigation is a source of amusement. The fake-progressives (fake because these so-called "progressives" support Imperial over-reach and a status quo whose only possible output is soaring wealth and income inequality) are confident that a "smoking gun" of corruption will deliver their most fervent dream, the impeachment of President Trump, while Trump supporters are equally confident there is no "smoking gun."
One camp is confident that the wily Clintons and their army of enablers, from former FBI Director Comey on down, will finally be brought to long-evaded justice for their various perfections of corruption and collusion: pay to play, and so on.
Clinton supporters are equally confident that there is no "smoking gun" that will bring down the House of Clinton, and by proxy, the organs of the Democratic Party.
The implicit historical model each camp is anticipating is of course Watergate, which unfolded with a dramatic inevitability that in retrospect almost seems scripted: a minor burglary led to the hubris of cover-up which led to the destruction of the Nixon presidency.
Often overlooked in this history is the key roles played by insider informants (such as Deep Throat) and the wider political demands for greater transparency the scandal triggered. The Church Committee ended up investigating the illegal campaigns of the FBI and CIA against the anti-war and civil rights movements (COINTELPRO etc.), and a small dent was made in the federal government's decades-long reliance on official secrecy to cover up official corruption, collusion, malfeasance, lies, etc.– the ugly underbelly of agencies protecting the Empire from any inconvenient leaks of truth.
I submit that Watergate will not be the template for the multiple investigations being pursued in the present. It seems highly likely to me that who and what gets taken down by the investigations is much less predictable than in the Watergate template, which distilled down to an escalating campaign of cover-ups and stonewalling which simply compounded the crimes previously committed.
I submit that the investigations launched with an implicit intent of bringing down selected targets may well end up destroying people and institutions that weren't in the crosshairs. The reason why this seems so likely is that the entire status quo is corrupt: the fraud, pay-to-play, lies and collusion are institutionalized and system-wide, and once some investigation drills a hole in the dam of secrecy and collusion, the hole may quickly widen as the fetid gush of hidden truths pours out.
In other words, when the entire status quo is corrupt and hiding its collusion, gathering evidence to nail one target inevitably tugs loose other threads, threads that the original investigators reckoned could be safely left untouched.
It doesn't work that way, folks. Insiders end up releasing more than investigators bargained for, and all it takes is one insider and one journalist who isn't beholden to a colluding-insider corporate boss to widen the hole in the dam into a veritable flood.
Longtime readers know I have long made the case that the Deep State has fractured into competing camps. For example:
Public investigations are one field where this conflict plays out, but unfortunately for the players, it's a game that's easier to start than to control.
For this reason, I predict the current investigations will widen and take a variety of twists and turns that surprise all those anticipating a tidy, narrowly focused denouement. Which of the many rotten fruits will fall first? How many will fall by the time the investigations have burned through a corrupt status quo that's exquisitely vulnerable to a single lightning strike? Only one lightning strike is needed to ignite the combustible corruption and trigger a conflagration tha quickly escapes the handlers' control.
If you want a recent example of this dynamic, consider Harvey Weinstein, a mere brush fire that may well spread further and faster than the handlers expect.
For more on the systemic nature of corruption in our status quo, please check out my books:
Correspondent Rudy C. kindly noted that the GDP chart I displayed yesterday was misleading as it did not adjust for population growth. This chart is of GDP per capita, which shows GDP per person rather than as an aggregate total. Thank you, Rudy, for the correction.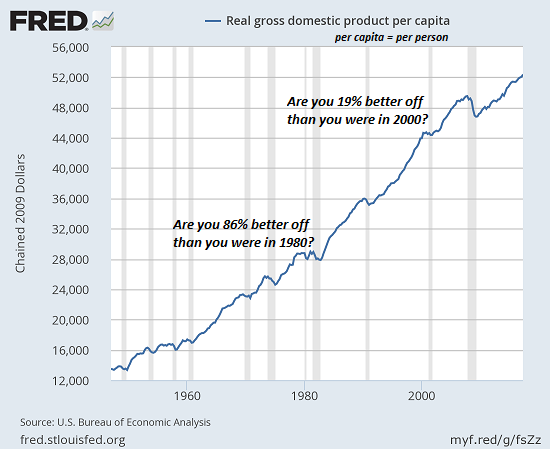 If you found value in this content, please join me in seeking solutions by becoming a $1/month patron of my work via patreon.com.
---
NOTE: Contributions/subscriptions are acknowledged in the order received. Your name and email remain confidential and will not be given to any other individual, company or agency.
| | | |
| --- | --- | --- |
| Thank you, Eric H. ($5/month), for your stupendously generous pledge to this site — I am greatly honored by your steadfast support and readership. | | Thank you, James R. ($5/month), for your monstrously generous pledge to this site — I am greatly honored by your support and readership. |
Go to my main site at www.oftwominds.com/blog.html
for the full posts and archives.
Powered by WPeMatico