This post When Paradigms Shift appeared first on Daily Reckoning.
We kicked off today's email edition of The Daily Reckoning with a philosophical insight: All paradigm shifts are met with opposition and end with something getting destroyed.
Innovations that define the future are greeted with resistance. Dying political institutions and economic models are greeted with protest.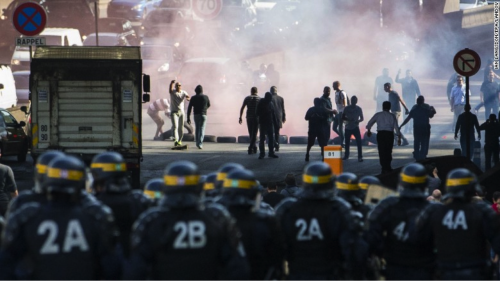 The ugly side of innovation.
Case in point: French taxi drivers flipping and torching UberPoP vehicles.
According to CNN's French affiliate BFMTV, nearly 3,000 taxi drivers were protesting the online car service this morning. Tires were set on fire, cars were overturned and Uber drivers gave their fares baseball bats to defend themselves.
The cabbies' beef? Uber is cutting in on their government-protected business by offering French citizens cheaper rides and even jobs. Shame on them.
"We're talking about a small minority," commented an Uber spokesperson, referring to the luddites, "totally reluctant to [accept] any sort of change."
"Paris has about as many taxicabs as it did five or 10 years after the end of the World War II," Blake Masters, co-author of Zero to One, related to us on Tuesday. "And the city's grown considerably since then. They've got this guild system and the taxicab lobbying association or industry group, and it's apparently incredibly powerful there."
Indeed. The most recent data showed French output grew last quarter, if just barely. Under the current, sans-Uber model, however, the number of French unemployed is up 80% since 2008.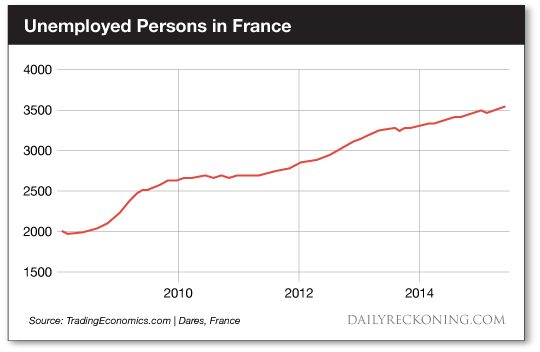 "That's the classic trade-off," added Masters. Let Uber operate freely and the everyday Frenchman would benefit, but those 3,000 cab drivers would lose the buffer to their business.
"I think it's inevitable that as things change, there are some painful disruptions. The key is that you can modulate some of this pain through the political process and through democratic governance. But the question we always have to ask is: Has that gone too far, and do interest groups and broken politics freeze advancement?
"I think they have," concluded Masters. Which brings us 1,792 miles due southeast, to what France may look like sooner than you'd expect…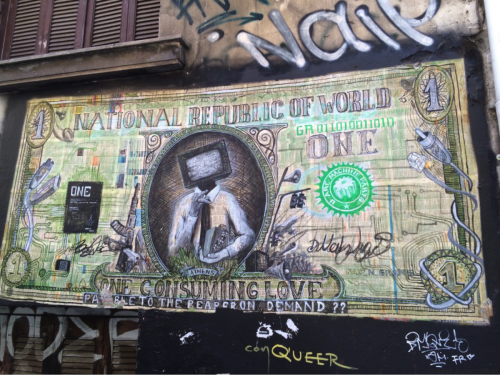 The dying paradigm, in one act of vandalism.
"The lively artworks underscore the growing anxiety and fear among Greeks over the fallout from the bailout negotiations," reports RT from Exarcheia, a neighborhood in Athens. "On Wednesday, [prime minister] Alexis Tsipras said the international creditors hadn't accepted the new Greek proposals. Fears are now mounting of a Greek default."
"The effects of the harsh budget cuts on the population," the report continues, referring to so-called austerity programs, "have spurred an outcry on the walls of Athens." Since 2008, Greek unemployment has spiked 225% — 25% of which RT pins on the austerity conditions levied on Greece by the International Monetary Fund, the European Union and the European Central Bank.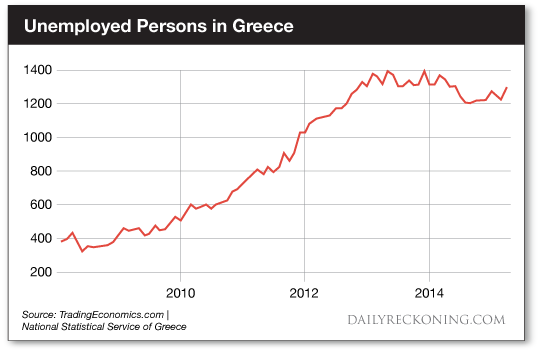 Meanwhile here's Greece's Tsipras, Italy's prime minister Matteo Ricci and Germany's chancellor Angela Merkel this morning at the Eurogroup meeting: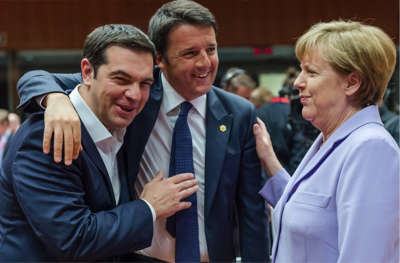 They look very concerned…
Bad models perpetuate themselves because of nostalgia and special interests, Jim Rickards has oft reminded us. Fortunately, the old models are eventually replaced, but it takes time. According to Jim, you can expect Greece's eurozone drama to "unfold the same way it has for the last five years." Think of it as Europe's version of Congress' never-ending debt ceiling debate.
Jim goes into detail about how "Grexit" is unlikely using a game theoretic model right here. Simply click the link to read more.
Regards,
Peter Coyne
for The Daily Reckoning
P.S. Be sure to sign up for The Daily Reckoning — a free and entertaining look at the world of finance and politics. The articles you find here on our website are only a snippet of what you receive in The Daily Reckoning email edition. Click here now to sign up for FREE to see what you're missing.
The post When Paradigms Shift appeared first on Daily Reckoning.