Previous Guests
Click here to listen to previous episodes.
About Chen Lin
Author "What is Chen Buying? What is Chen Selling?" Chen grew $5,400 to $2.3 million in 10 years. Learn More
What 1982 Can Tell Us About A Potential Market Crash In 2017
From Chris Ciovacco: Even with the backdrop of numerous positive technical developments, it may be difficult to envision the stock market moving higher given skepticism has been lingering for several years.
The tone of reporting from this week's World Economic Forum has had a decidedly pessimistic slant. From the International Business Times:
DAVOS, Switzerland — Despite the usual trappings of revelry here in the Swiss Alps at the World Economic Forum, an unfamiliar mood grips the proceedings: gloom. World leaders and people in charge of money are nursing angst over the potentially perilous state of the global economy. They confront an overwhelming array of crises all at once — China's economic slowdown, the collapse of energy prices, plunging stock markets, confusion over monetary policy, conflict in the Middle East, an attendant surge of refugees into Europe, and the ever-present threat of terrorist attacks.
What Can We Learn From History?
In this article, we will examine one question and one question only:
Is it possible for stocks to successfully hold a breakout from a long-term consolidation pattern when the social mood and news of the day have a pessimistic slant?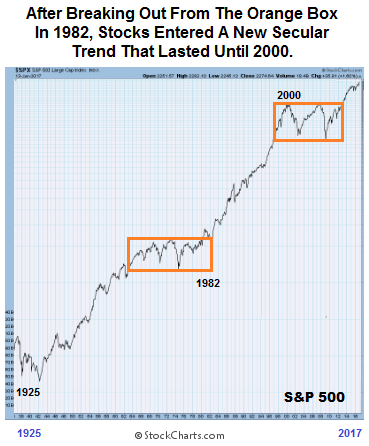 How Was The Mood Back In 1982?
If you followed the news back in 1982, it would have been difficult to imagine the S&P 500 had already started what eventually became an 18-year secular rise. As you scan the bullet points below from the Wikipedia 1982 page, try to imagine the physiological impact of weekly headlines that included wars, bankruptcies, plane crashes, high unemployment, geopolitical strife, a debt crisis, and acts of terror:

Unemployment in the United Kingdom increases by 129,918 to 3,070,621, a post-war record number.
Mark Thatcher, son of British Prime Minister Margaret Thatcher, disappears in the Sahara during the Dakar Rally; he is rescued January 14.
Shortly after takeoff, Air Florida Flight 90 crashes into Washington, D.C.'s 14th Street Bridge and falls into the Potomac River, killing 78. On the same day, a Washington Metro train derails to the north, killing 3 (the system's first fatal accident).
Four Northrop T-38 aircraft of the United States Air Force Thunderbirds Demonstration Squadron crash at Indian Springs Air Force Auxiliary Field, Nevada, killing all 4 pilots.
The first computer virus, the Elk Cloner, written by 15-year old Rich Skrenta, is found. It infects Apple II computers via floppy disk.
The Hama massacre begins in Syria.
Syrian president Hafez al-Assad orders the army to purge the city of Harran of the Muslim Brotherhood.
London-based Laker Airways collapses, leaving 6,000 stranded passengers and debts of $270 million.
Japan Airlines Flight 350 crashes in Tokyo Bay due to thrust reversal on approach to Tokyo International Airport, killing 24 among the 174 people on board.
The oil platform Ocean Ranger sinks during a storm off the coast of Newfoundland, killing all 84 rig workers aboard.
The DeLorean Motor Company Car Factory in Belfast is put into receivership.
Atlanta murders of 1979–81: Wayne Williams is convicted of murdering 2 adult men and is sentenced to two consecutive life terms.
The United States places an embargo on Libyan oil imports, alleging Libyan support for terrorist groups.
In Newport, Rhode Island, Claus von Bülow is found guilty of the attempted murder of his wife.
The Falklands War begins: Argentina invades and occupies the Falkland Islands.
A blizzard unprecedented in size for April dumps 1–2 feet of snow on the northeastern United States, closing schools and businesses, and snarling traffic.
British troops retake South Georgia during Operation Paraquet.
The nuclear submarine HMS Conqueror sinks the Argentine cruiser General Belgrano, killing 323 sailors. Operation Algeciras, an attempt to destroy a Royal Navy warship in Gibraltar, fails.
HMS Sheffield is hit by an Exocet missile, and burns out of control; 20 sailors are killed. The ship sinks on May 10.
A Unabomber bomb explodes in the computer science department at Vanderbilt University; secretary Janet Smith is injured.
French-Canadian racing driver Gilles Villeneuve is killed during qualifying for the Belgian Grand Prix.
Spanish priest Juan María Fernández y Krohn tries to stab Pope John Paul II with a bayonet during the latter's pilgrimage to the shrine at Fátima.
Braniff International Airways is declared bankrupt and ceases all flights.
The British Special Air Service launches an operation to destroy three Argentinean Exocet missiles and five Super Étendard fighter-bombers in mainland Argentina. It fails when the Argentineans discover the plot.
British landings spark the Battle of San Carlos.
HMS Ardent is sunk by Argentine aircraft, killing 22 sailors.
HMS Antelope is lost.
Iranian troops retake Khorramshahr.
KGB head Yuri Andropov is appointed to the Secretariat of the Communist Party of the Soviet Union.
British ships HMS Coventry and SS Atlantic Conveyor are sunk during the Falklands War; Coventry by two A-4C Skyhawks and the latter sunk by an Exocet.
The 1982 Lebanon War begins: Forces under Israeli Defense Minister Ariel Sharon invade southern Lebanon in their "Operation Peace for the Galilee," eventually reaching as far north as the capital Beirut.
The United Nations Security Council votes to demand that Israel withdraw its troops from Lebanon.
British ship RFA Sir Galahad is destroyed during the Bluff Cove Air Attacks.
VASP Flight 168, a Boeing 727 passenger jet, crashes into forest Fortaleza, killing 137.
The Nuclear Disarmament Rally, an event against nuclear weapon proliferation, draws 750,000 to New York City's Central Park.
The body of "God's Banker", Roberto Calvi, chairman of Banco Ambrosiano, is found hanging beneath Blackfriars Bridge in London.
British Airways Flight 9 suffers a temporary four-engine flameout and damage to the exterior of the plane, after flying through the otherwise undetected ash plume from Indonesia's Mount Galunggung.
ASLEF train drivers in the United Kingdom go on strike over hours of work.
Four Iranian diplomats are kidnapped upon Israel's invasion of Lebanon.
Pan Am Flight 759 (Boeing 727) crashes in Kenner, Louisiana, killing all 146 on board and 8 on the ground.
Intruder Michael Fagan breaches Buckingham Palace security as far as into the bedroom of Elizabeth II.
Checker Motors Corporation ceases production of automobiles.
Geoffrey Prime, a GCHQ civil servant, is remanded in custody on charges under the Official Secrets Act 1911.
In New York City, the Reverend Sun Myung Moon is sentenced to 18 months in prison and fined $25,000 for tax fraud and conspiracy to obstruct justice.
William Whitelaw, Home Secretary, announces that Michael Trestrail (the Queen's bodyguard) has resigned from the Metropolitan Police Service over a relationship with a male prostitute.
Hyde Park and Regent's Park bombings: the Provisional IRA detonates 2 bombs in central London, killing 8 soldiers, wounding 47 people, and leading to the deaths of 7 horses.
A coroner's jury returns a verdict of suicide on Roberto Calvi, who was found hanging under Blackfriars Bridge.
Torrential rain and mudslides in Nagasaki, Japan destroy bridges and kill 299.
On a movie set, the Twilight Zone actor Vic Morrow and 2 child actors die in a helicopter stunt accident.
In Beaune, France, 53 persons, 46 of them children, die in a highway accident (France's worst).
Attempted coup against government of Daniel Arap Moi in Kenya.
The United Nations Security Council votes to censure Israel because its troops are still in Lebanon.
Italian Prime Minister Giovanni Spadolini resigns.
Mexico announces it is unable to pay its large foreign debt, triggering a debt crisis that quickly spreads throughout Latin America.
Lebanese Civil War: A multinational force lands in Beirut to oversee the PLO withdrawal from Lebanon. French troops arrive August 21, U.S. Marines August 25.
Italian general Carlo Alberto Dalla Chiesa is killed in a Mafia ambush.
Iowa paperboy Johnny Gosch is kidnapped.
Lebanese President-elect Bachir Gemayel is assassinated in Beirut.
A Lebanese Christian militia (the Phalange) kill thousands of Palestinians in the Sabra and Shatila refugee camps in West Beirut, the massacre is a response to the assassination of president-elect, Bachir Gemayel four days earlier.
The NFL Players Association calls a strike, the first in-season work stoppage in the National Football League's 63-year history.
The Wimpy Operation, first act of armed resistance against Israeli troops in Beirut.
In Israel, 400,000 marchers demand the resignation of Prime Minister Menachem Begin.
The Chicago Tylenol murders occur when 7 people in the Chicago area die after ingesting capsules laced with potassium cyanide.
Helmut Kohl replaces Helmut Schmidt as Chancellor of Germany through a constructive vote of no confidence.
John DeLorean is arrested for selling cocaine to undercover FBI agents.
Luzhniki disaster: During the UEFA Cup match between FC Spartak Moscow and HFC Haarlem, 66 people are crushed to death.
A gasoline or petrol tanker explodes in the Salang Tunnel in Afghanistan, killing at least 176 people.
The Dow Jones Industrial Average surges 43.41 points, or 4.25%, to close at 1,065.49, its first all-time high in more than 9 years. It last hit a record on January 11, 1973, when the average closed at 1,051.70. The points gain is the biggest ever up to this point.
In Lebanon, the first Tyre headquarters bombing kills between 89 and 102 people.
The Minneapolis Thanksgiving Day fire destroys an entire city block of downtown Minneapolis, including the headquarters of Northwestern National Bank.
The first U.S. execution by lethal injection is carried out in Texas.
The December murders occur in Suriname.
The 6.0 Ms North Yemen earthquake shakes southwestern Yemen with a maximum Mercalli intensity of VIII (Severe), killing 2,800.
The United Freedom Front bombs an office of South African Airways in Elmont, NY and an IBM office in Harrison, NY.
Why 1982?
From Yahoo Finance:
In the last 81 years, there have been only two "outside years" before 2016: 1935 and 1982. Both of these years were followed by the S&P enjoying double-digit gains — +28% in 1936, and +17% in 1983 — which potentially sets the table for a monster rally into 2017.
There are several technical occurrences in the present day that are similar to the early 1980s. For example, the S&P 500 broke out of a consolidation box in 1982 by exceeding the high that was made nine years earlier in 1973. In 2013, the S&P 500 exceeded the highs from both 2000 and 2007, which represents a significant long-term breakout for equities. 2016 also represented a very rare "outside year", an event that last occurred in 1982. The concept of an outside year was covered in detail on December 30.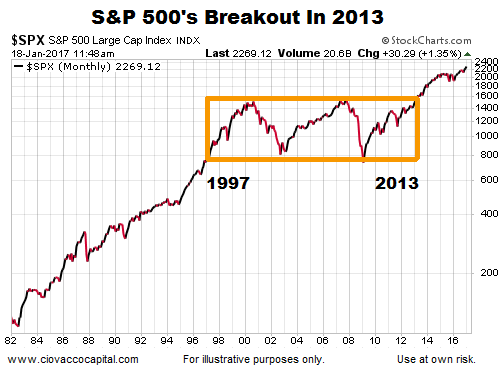 More Recent History Also Features Consolidation
The concept of consolidation followed by a breakout or breakdown applies to all timeframes. The chart above shows a consolidation box that was in play between 1997 and 2013. A more recent view of the S&P 500 also features a consolidation box that dates back to 2014 on a monthly chart. Stocks are currently holding onto a bullish breakout from the 2014-2016 consolidation box.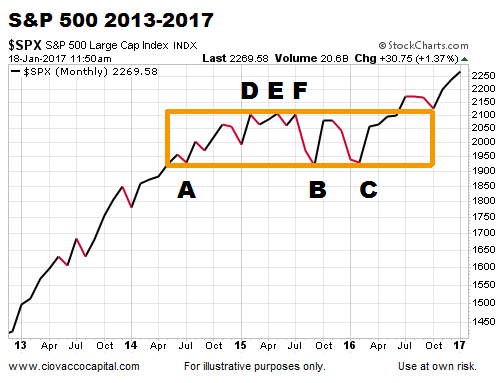 How Vulnerable Is The 2017 Market?
This week's stock market video looks at the longer-term health of the current rally in stocks. Are longer-term cracks starting to appear?
After you click play, use the button in the lower-right corner of the video player to view in full-screen mode. Hit Esc to exit full-screen mode.


The Broad Market Has Been Consolidating For 19 Years
Similar to the multiple-year consolidation that preceded the 1982 breakout in stocks, the present day market also features a consolidation box that started forming back in 1997. As of this writing, the NYSE Composite Stock Index is holding above the orange consolidation box shown below.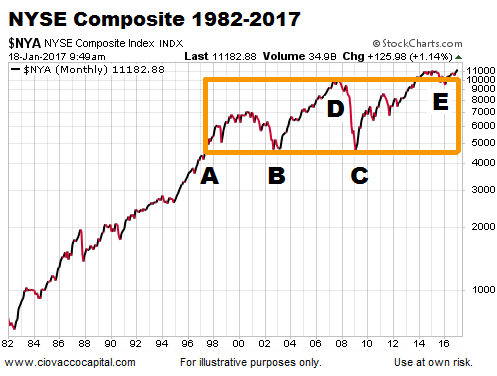 The View From 30,000 Feet
If we double back to the first chart in this article, it is easier to see how the concept of consolidation and breakouts may apply to 2017 and beyond. There were plenty of reasons to be pessimistic in 1982, and yet stocks were able to advance after breaking out.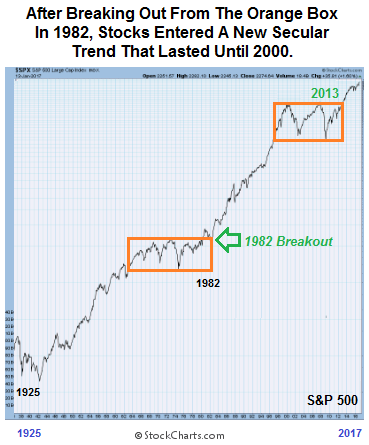 2017 Is Significantly Different From 1982
Our purpose is not to say 2017 is 1982. In fact, 2017 is a unique year that will be different from every other year in human history. The same can be said for every year; they all follow a different fundamental and technical script.
History reminds us that the recent bullish breakouts from long-term stock market consolidation patterns do not necessarily need to be coupled with widespread optimism for stocks to advance over the next several years. Almost no one was expecting an 18-year secular bull run in stocks given the news of the day in 1982, and yet, that is exactly what happened.
Before a lot of energy is wasted on the differences between 1982 and 2017, keep in mind our purpose was to examine one question and one question only:
Is it possible for stocks to successfully hold a breakout from a long-term consolidation pattern when the social mood and news of the day have a pessimistic slant?
Notice the term "possible" is used above, meaning all bearish scenarios also remain in the realm of possibility. This exercise helps us remain open to all outcomes, not just the pessimistic outcomes often covered in the media. Time will tell.
The SPDR S&P 500 ETF Trust (NYSE:SPY) rose $0.77 (+0.34%) in premarket trading Friday. Year-to-date, SPY has gained 1.06%, versus a % rise in the benchmark S&P 500 index during the same period.
SPY currently has an ETF Daily News SMART Grade of A (Strong Buy), and is ranked #1 of 109 ETFs in the Large Cap Blend ETFs category.
---
This article is brought to you courtesy of Ciovacco Capital.
You are viewing an abbreviated republication of ETF Daily News content. You can find full ETF Daily News articles on (www.etfdailynews.com)
Powered by WPeMatico