This post Wall Street vs. Tech Billionaires Over Climate appeared first on Daily Reckoning.
In a major report on where resources should be focused over the next decade to combat global warming, Goldman Sachs has essentially dissed many tech billionaires who think the way to make money and solve the climate problem is to invest in young and unproven but promising technologies.
In a strange war between Wall Street and Silicon Valley, Goldman has shrugged off nuclear power, hydro, biofuels, tidal generation and offshore wind power and instead is suggesting investments in solar panels, land-based wind power, LED lighting and electric autos. The analysts feel this group of four technologies are not only quickly scalable but competitive, as well as have the ability to shift carbon levels rapidly. Goldman predicts the four technologies will become a $600 billion market in five –10 years.
At the same time, Bill Gates, Jeff Bezos, Mark Zuckerberg, Jack Ma and Vinod Khosla announced the Breakthrough Energy Coalition to help governments fund basic research and early-stage technologies for new, not established, energy ideas. The Breakthrough Energy Coalition is focusing on novel ways to generate electricity and store it, transmit it more effectively, and increase the energy efficiencies in agriculture.
On his blog, Gates wrote: "The renewable technologies we have today, like wind and solar, have made a lot of progress and could be one path to a zero-carbon energy future, but given the scale of the challenge, we need to be exploring many different paths — and that means we also need to invent new approaches." Gates himself has committed $1 billion over five years to fund creative clean energy concepts.
Although more than half of all new power plants constructed in 2015 use renewable sources and nearly two-thirds of all investment in energy production was in renewables, the International Energy Agency (IAE) still says the world is headed to at least a 2.7-degree Celsius temperature rise, well above the 2-degree mark at which many scientists say our weather will turn chaotic. Whether Wall Street's way or Silicon Valley's way, more has to be done sooner, insists the IAE.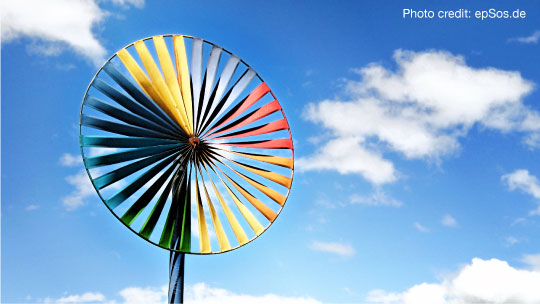 A windmill generator at an environmental exhibition in Quito, Ecuador. Many smaller nations are converting to wind faster than more developed nations.
Goldman analysts appear to be less focused on long-term nuevo-tech solutions than they are on where money is more likely to flow in the next decade.
In the report, they expect "wind and solar to account for over half of new installations in electricity generation capacity by 2025. In energy terms, this now puts the phenomenon of solar PV and onshore wind on par with U.S. shale oil production."
A study from MIT also released at the same time — just before the Paris summit — suggests Goldman is correct in betting that the biggest gains against carbon release will come from wind power and solar. The MIT study predicts solar generation will increase 500% by 2030 and wind 300%.
To your health and wealth,
Stephen Petranek
for The Daily Reckoning
Ed. Note: Get the top investment trends for 2016 in medicine and technology from the former head of the most popular science magazine in the world. Simply sign up for our Tomorrow in Review e-letter for FREE right here. Don't miss out. Click here now to sign up for FREE.
The post Wall Street vs. Tech Billionaires Over Climate appeared first on Daily Reckoning.