Chris Ciovacco: Given the big miss on the job creation side of Friday's monthly employment report, it may appear to be easy for the Fed to continue to put off a hike in interest rates. However, the Fed has two primary mandates; full employment and keeping inflation in check. From the Federal Reserve Bank of Chicago's website:
"The Board of Governors of the Federal Reserve System and the Federal Open Market Committee shall maintain long run growth of the monetary and credit aggregates commensurate with the economy's long run potential to increase production, so as to promote effectively the goals of maximum employment, stable prices and moderate long-term interest rates."
Inflation: Glass Half Full
The ratio of Treasury inflation-protected securities (TIP) vs. intermediate-term treasuries (IEF) can be used to monitor inflation expectations. If we use a weekly chart that plots closing prices, you can make an argument that a bullish breakout recently occurred in inflation expectations (see green arrow).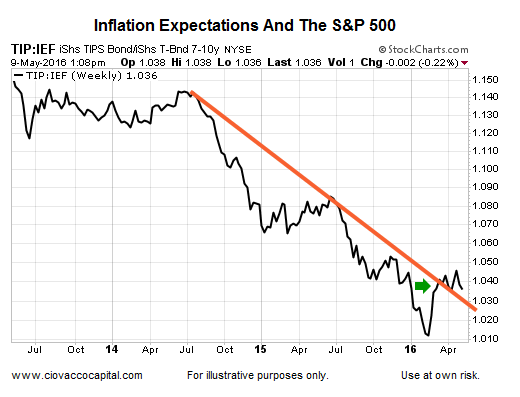 Inflation, Stocks, Bonds, and Commodities
This week's stock market video examines current inflation expectations in the context of market history/performance of stocks (SPY), bonds (IEF), and commodities (DBC). From The Wall Street Journal:
With the global economy so sluggish, can bond investors rest easy about inflation? Not necessarily. Excluding energy prices, inflation might not be as tame as many think it is.
After you click play, use the button in the lower-right corner of the video player to view in full-screen mode. Hit Esc to exit full-screen mode.

Inflation: Glass Half Empty
If we use high-low-close bars on the same weekly TIP vs. IEF chart, an argument can be made that we have seen a normal countertrend rally in inflation expectations within the context of an ongoing downtrend. Notice the recent relationship between inflation expectations and the S&P 500 (bottom of chart). We should learn something about the relative attractiveness of stocks, bonds, and commodities based on how inflation expectations evolve over the coming weeks.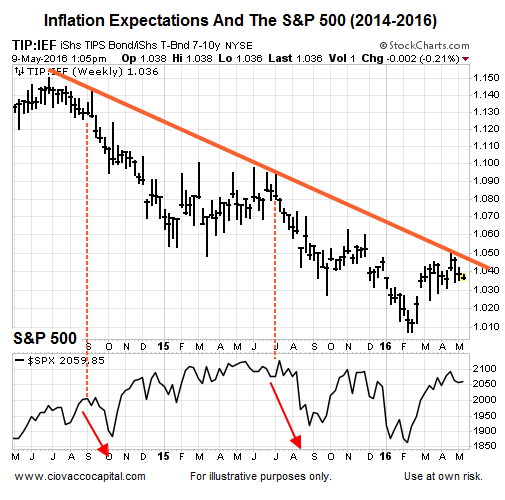 Yellen Focused On Wages
If a worker gets a raise, they have more money coming in each month. Therefore, they have more money to spend in the real economy.
Powered by WPeMatico