This post URGENT: Your Money's at Risk. Here's what to Do About It… appeared first on Daily Reckoning.
You're going to need a backup plan if some hacker in Romania or Russia empties all your bank accounts next week…
Think I'm joking?
Look, the next big cyber security breach is coming. It's not a matter of if… but when. And don't think for a second you're immune.
Your Social Security number, private emails, business secrets and banking details are all on the line. Banks know it. Corporations know it. Hell, even the clueless drones in Washington know it.
There's no way to unplug from today's computer-centric society unless you plan on going off-grid or something. And let's just say you don't exactly strike me as the Grizzly Adams type, buddy.
I'm not saying this to scare you. It's not all bad news. In fact, you might even make serious coin off the next big hack attack. And don't worry, it's all legal…
Look no further than the cybersecurity industry. Many of these stocks are already on the jump as increasing numbers of incidents make the news. And the train isn't slowing down anytime soon…
Face it: no company wants to be the next to have its reputation dragged through the mud by some ragtag hacker out for a quick payday.
"Sony's recent hacking incident with The Interview is only part of the reason I believe the cybersecurity industry is on the verge of a breakout year," I told you back over the winter. "Target and Home Depot also suffered embarrassing incidents recently. The demand is enormous–companies just can't ignore the dangers of data breaches anymore."
These attacks will continue. Russia and China are especially aggressive. And spending on cybersecurity will march higher as businesses and governments look to stay one step ahead of the bad guys.
"As many as 5,000 hackers worldwide could be capable of committing Sony Pictures-style attacks on companies," according to MarketWatch.
"We're going to see more and more companies hacked. We're going to see deeper levels of destruction," Jon Miller, VP of security firm Cylance, said in a 60 Minutes interview.
Deeper levels of destruction? Sounds ominous to me.
And yet for some strange reason no one wanted anything to do with cybersecurity stocks earlier this year. Remember this chart?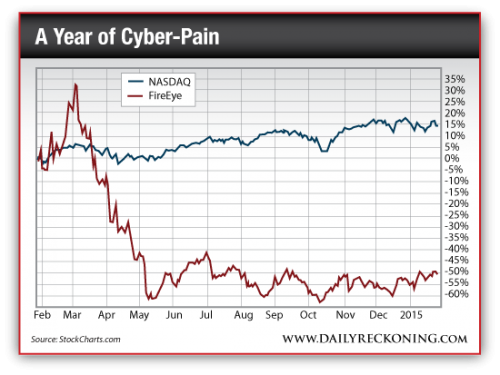 That's FireEye Inc. (NASDAQ:FEYE). After its hair-raising drop in early 2014, this cybersecurity firm watched its shares founder for the better part of a year.
But not anymore. Here's an updated look: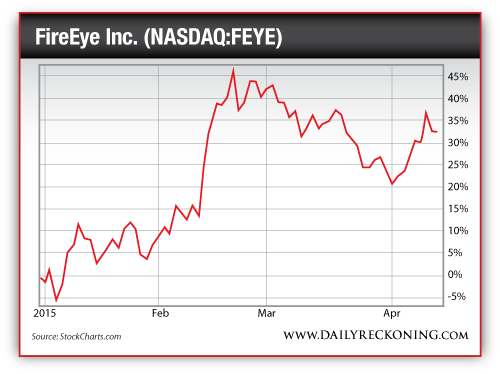 What a difference a few months can make!
You don't have to go off-grid to protect yourself. Just buy FireEye…
Regards,
Greg Guenthner
for The Daily Reckoning
P.S. Protect your privacy and make money at the same time. What's not to like? If you want to cash in on the biggest profits this market has to offer, sign up for my Rude Awakening e-letter, for FREE, right here. Stop missing out. Click here now to sign up for FREE.
The post URGENT: Your Money's at Risk. Here's what to Do About It… appeared first on Daily Reckoning.