This post URGENT: Corporate Earnings Stink – Here's How to Avoid the Wreck appeared first on Daily Reckoning.
Welcome to earnings hell!
Yes, it's earnings season again. And let's just say it's not off to a rollicking start. The strong dollar has a lot to with it. It makes U.S. products more expensive overseas…
"The strong dollar hurt sales at American Express, GE, and IBM. Tough competition was a problem for Harley-Davidson and Verizon," CNN reports. "The fundamentals for many U.S. companies are on shakier ground than just a few months ago."
So stocks are dragging you down to earnings hell, right? Depends on which stocks you mean. Today we're going to bypass those stocks ticketed for damnation and grab some that will actually make you money this earnings season…
Even the really smart guys are having trouble finding the silver lining in this hellish earnings season. …
"All told, there is a good chance earnings will actually shrink this year." Greenlight Capital founder David Einhorn said in a note to investors. "We think the market is too high if earnings have, in fact, peaked for the cycle, and we have reduced our net exposure by adding more shorts."
Just so we're on the same page…when Einhorn talks about adding shorts he doesn't mean buying more summer wear, OK? And he's not the only one with a bearish earnings forecast for U.S. stocks…
"Earnings will not be as good as people expect simply because they have a lot of headwinds," the famed Mark Mobius of Franklin Templeton Investments told CNBC yesterday.
So here we are—strong dollar, weak earnings, and a soft stock market. Other than that Mrs. Lincoln, how's the play going?
And Bespoke Investment Group informs us that even though 64% of companies have beaten consensus earnings estimates this season, revenue estimates are way down.
As shown in the second chart below, "just 44% of companies have beaten revenue estimates so far this earnings season. This is extremely low compared to past quarters during this five year bull market, and it's actually down at levels last seen during the final quarters of the Financial Crisis."
Take a look: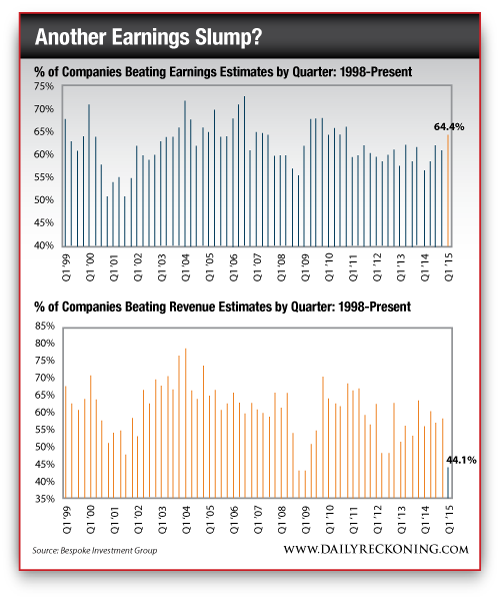 Lousy. Just lousy…
But it's important to note that while earnings have thrown cold water on stocks, the market isn't freezing over just yet. Stocks are weak—but the major averages are holding up just fine.
However, U.S. stocks may be paddling against the current for a bit. So what's your best course of action right now?
Move some cash into overseas markets.
While crappy earnings hold stocks back stateside, they should put fresh winds in the sails of foreign stocks.
Put some money in emerging markets and make the next few months your earnings season.
Regards,
Greg Guenthner?
for The Daily Reckoning
P.S. It's time to get your money a passport. If you want to cash in on the biggest profits this market has to offer, sign up for my Rude Awakening e-letter, for FREE, right here. Stop missing out. Click here now to sign up for FREE.
The post URGENT: Corporate Earnings Stink – Here's How to Avoid the Wreck appeared first on Daily Reckoning.