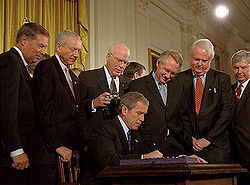 President Bush signs in the Patriot Act in October 2001. Photo credit: Wikimedia Foundation
After 9/11, law enforcement officials across the country detained Muslims and others of Arab descent, arguably without due cause. Detractors cited similarities to the Japanese Internment Camps of the WWII era. The Patriot Act, hastily passed in October 2001, allowed for such measures under the guise of anti-terrorism. Similar breaches of privacy and liberty have been subsequently abused on an even broader scale, seen through the massive NSA wiretapping programs blown open by Edward Snowden.
Though provisions of the Act were allowed to expire in early June, the USA Freedom Act (2015) allows for similar programs to continue—this time, however, with a degree of transparency and declassification. As we move forward into the next era of "freedom," there are certainly lessons to glean from Robert Greenwald's documentary chronicling the early days of the Patriot Act.
.
The post Unconstitutional: The War on Our Civil Liberties appeared first on WhoWhatWhy.