Rick Pendergraft:  Back on March 12, I wrote a bullish piece on the iShares FTSE China 25 Index Fund (NYSEARCA:FXI) in this space.
There were a number of ETFs representing foreign markets popping up on my bullish scans at the time, but the China large-cap ETF stood out.
The following FXI chart from March 12 was part of the reason I was bullish on the fund.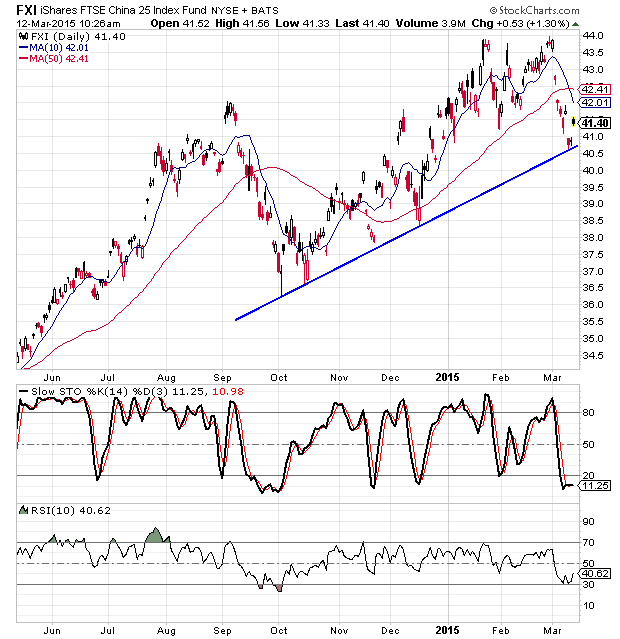 You can see how the trendline acted as support and how the slow stochastic readings were oversold. There was also a fundamental factor behind the bullish posture, and that was the actions by the central bank of China to loosen monetary policy in order to reinvigorate the Chinese economy.
Since that first article appeared, the FXI has gone almost straight up. After closing at $41.28 on March 12, the fund closed at $51.98 yesterday. That is a 25.9% jump in a month and a half. And we are talking about an index-based ETF, not an individual stock.
The chart below shows what has happened since that first article, with the blue arrow denoting the date of March 12.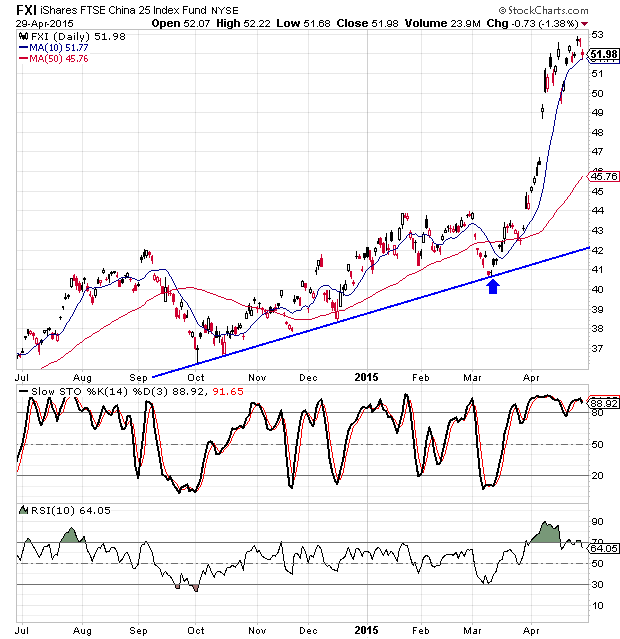 While I love seeing prognostications work out so well, I am now concerned that the fund has jumped too much in such a short period of time. You can see on the chart that the fund is overbought, and you can see how the 10-day moving average jumped way ahead of the 50-day moving average.
When the gap between two significant moving averages gets to be too wide, the underlying stock or fund has a tendency to either pull back or go through a consolidation period at the very least.