Tony Daltorio:  At a time when many of the world's economies look "sick," the German economy stands out.
Unemployment is near a record low while exports are near a record high. Consumer confidence is at levels not seen since 2011.
Debt and deficits are low. Inflation and interest rates are both near zero.
Germany also has the best economic growth of any of the developed countries.
Its growth is expected to average 1.3% in the 2007-2016 period, according to the International Monetary Fund.
The IMF's forecast is backed up by the latest report from Deutsche Bundesbank, Germany's central bank. It forecasts a strong second half of 2015.
It pointed to both strong domestic demand and a weak euro, which will benefit exports.
The weak euro is an aftereffect of the European debt crisis. It turns out Germany was helped by the dire situation in Greece. The Halle Institute for Economic Research says Germany ended up paying about 300 basis points less on the bunds it issued during this period than it otherwise would have.
German Companies Power Ahead
German companies have also done well. Many have become as successful globally as the country's soccer team has on the pitch. Overall, German companies have spent $170 billion on global acquisitions in 2014 alone.
Volkswagen Group (OTC: VLKAY) is now the world's largest automobile manufacturer. Low-cost grocery chains Aldi and Lidl have expanded and are becoming dominant in the U.K. Their next target: the U.S. Look out Wal-Mart (NYSE: WMT) and Kroger (NYSE: KR).
Yet, the German DAX index peaked in April. It has been in a slippery downward slope ever since. The reason? Too much, too soon. The DAX soared nearly 50% from October 2014 to April 2015.
DAX Performance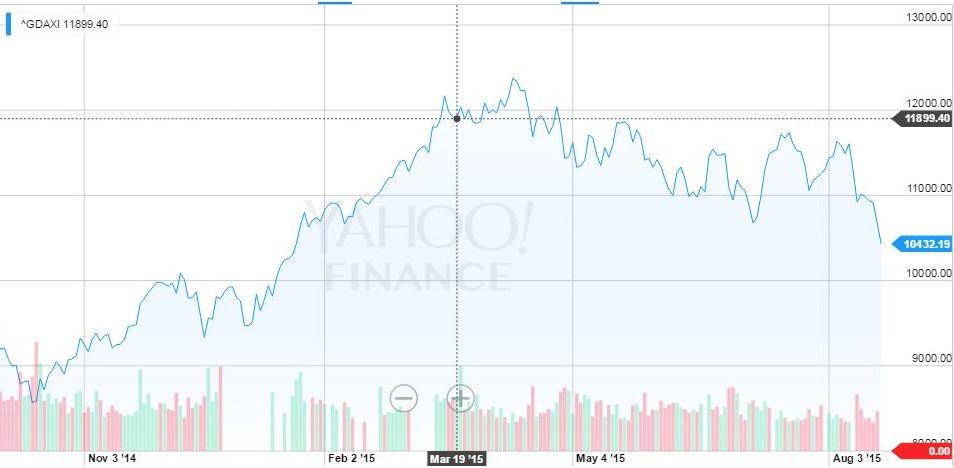 Source: Yahoo Finance
Of course, the China effect is in full play also. Many German companies, such as Volkswagen, are highly exposed to China.
Now's the Time to Look at German Stocks
But investors, particularly in the U.S., tend to underestimate China constantly. And the recent yuan devaluation of about 4% was an "adjustment." The yuan was up versus all other currencies over 10% since the start of 2014.
Baring Asset Management's Robert Smith thinks this dip in German stocks offers a buying opportunity. He wrote in a note to clients that German stocks offer a "superior earnings growth outlook" to their European peers.
And I would venture that the outlook for many German companies is better than many U.S. corporations too.
That makes the iShares MSCI Germany ETF (NYSEARCA:EWG) an interesting play, as is Volkswagen.