This post Time to Open Your Purse if You Want Some Quick Double-digit Gains appeared first on Daily Reckoning.
So far this week, we've bashed social media stocks, railed against cable monopolies, and even dared to test the all-seeing power of the Great Janet Yellen.
But today, you need to switch gears to more important matters. I'm talking about handbags, of course.
That's right—it's time to get your purse out. And you could be rewarded with some easy double-digit gains over the next few weeks if you can scrape together enough loose change to hop on this trend…
Look, designer handbags make up a huge market. I have no idea what's in style and what's not. But it's impossible to ignore the number of public companies that have popped up over the past few years making a majority of their revenues hocking $300 purses.
But the great handbag boom of the past few years is beginning to crack. After all we're dealing with fickle shoppers, styles, and fashion trends. It's damn near impossible to stay at the top of the mountain for long.
In fact, one of the most popular brands out there is really starting to lose its luster:
"Kate Spade & Co., the stock with the highest analyst ratings among apparel and luxury goods companies in the Russell 1000 Index, lost the most in nine months after reporting in-store sales that missed expectations," Bloomberg reports. "Sales at brick-and-mortar stores were 6 percent higher in the first quarter of 2015 from a year ago, missing the 8 percent growth estimate of analysts surveyed by Bloomberg. While total direct-to-consumer sales including online shopping grew 9 percent, beating analysts' 7.3 percent estimate, the company said it expects e-commerce sales to 'moderate.'"
The analysts were wrong about this one?!? I'll give you a minute to pick your jaw off the floor.
So yeah, Kate Spade shares tanked 9% yesterday. And this isn't the only trendy handbag stock having a fainting spell right now. Coach Inc. also took a double-digit hit after missing earnings a couple of weeks ago. The once-bulletproof Michael Kors Holdings is locked in a nasty downtrend– down 20% over the past five months. And let's not forget Vera Bradley. The maker of colorful cloth bags has seen its stock chopped nearly in half over the past six months. What a fashionable wreck.
Just see for yourself: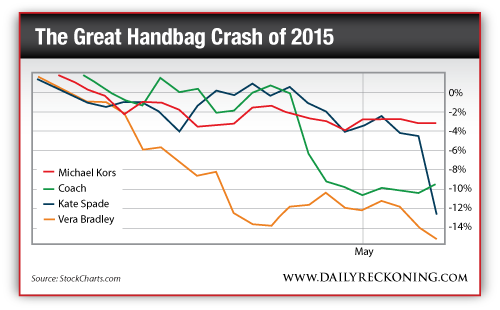 My advice: don't try to invest in whatever seasonal fashion trends pop up every few months. As hard as the market is to predict, at least stock trends are a lot more dependable than assessing whatever high-end leather bags will be flying off the shelves next month.
So stay away from these money pits—and tell your wife to stop spending your entire paycheck on handbags! Or are you the one blowing your entire paycheck on handbags?
Regardless, I suggest you turn your back on this overpriced sector and head to the discount rack. Cheaper retail names are performing much better than these plays right now…
Regards,
Greg Guenthner?
for The Daily Reckoning
P.S. Grab your purse!  If you want to cash in on the biggest profits this market has to offer, sign up for my Rude Awakening e-letter, for FREE, right here. Stop missing out. Click here now to sign up for FREE.
The post Time to Open Your Purse if You Want Some Quick Double-digit Gains appeared first on Daily Reckoning.