Diane Alter: Many gold-mining stocks have enjoyed healthy year-to-date gains. GDX stock – also known as the Market Vectors Gold Miners ETF (NYSE Arca: GDX) is up 5.4% in 2015, compared to the Dow's 1.3% gain.
Driving gold miners' advances this year are the same drivers of the precious metal. They include Middle East tensions, devalued currencies, loose global central bank monetary policies, and hopes of a later-rather-than-sooner interest rate hike from the U.S. Federal Reserve.
In addition, lower energy prices have made it cheaper to mine gold. That's good for GDX stock and other gold-mining companies/ETFs.
Mining for gold is an extremely energy-intensive business. Indeed, it takes a lot of oil to dig deep into the earth for the shiny metal. The swoon in oil prices, down 40% since June 30, 2014, is making miners' breakeven costs for gold much lower.
The lower their breakeven price, the wider their profit margins – even if gold prices just kind of flounder for a while. And, that's good for earnings.
Several companies have taken advantage of depressed fuel prices to expand their operations. Just in January 2015, some $2.7 billion deals within the mining industry were announced or completed, according to Bloomberg. That sets the pace for 2015 to easily surpass the $10.5 billion in mining deals inked in 2014.
Looking especially attractive right now to Money Morning Resource Specialist Peter Krauth is the Market Vectors Gold Miners ETF (NYSE Arca: GDX).
"With the broader markets in their sixth year of the bull cycle, there are few asset classes that can truly be called bargains," Krauth said. "Gold stocks are certainly one of them. If we look at the Gold/GDX ratio, it tells us how expensive or cheap gold stocks are versus gold right now."
Take a look at this GDX stock chart: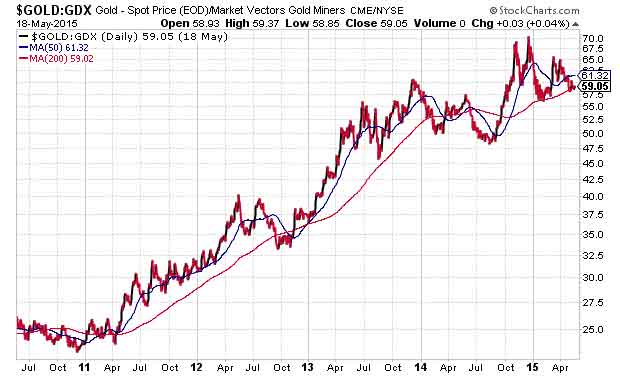 "As you can see, ever since gold prices peaked in 2011, the rising chart means gold stocks have fallen faster than the gold price," Krauth continued. "It looks, however, like that may have peaked late last year. Gold stocks have acted constructively since then, advancing more quickly than the gold price, providing leverage – as they should."
Krauth said he "believes now is a good time to initiate and/or gradually add to one's gold stock exposure." He added, "GDX is a good instantly diversified way to accomplish that."
Here's why.
Why to Buy GDX Stock
GDX, launched on May 16, 2006, was the first gold shares exchange-traded fund.