Rick Pendergraft:   Over the last few days, the scans that I run on a nightly basis have not produced a great number of stocks on either the bullish or bearish side of the equation. Last night's scan only had six stocks on the bullish list and three of the six stocks were utilities stocks.
Seeing so few stocks on the list and seeing half of them were utilities, this led me to look at the charts for the Utilities Select Sector SPDR (NYSEARCA:XLU).
The daily chart shows that the XLU has fallen over the last few weeks and the oscillators reached oversold territory. The 10-day RSI did reverse and is now out of oversold territory. The slow stochastic readings remained in oversold territory, but they are starting to climb and look to be headed higher.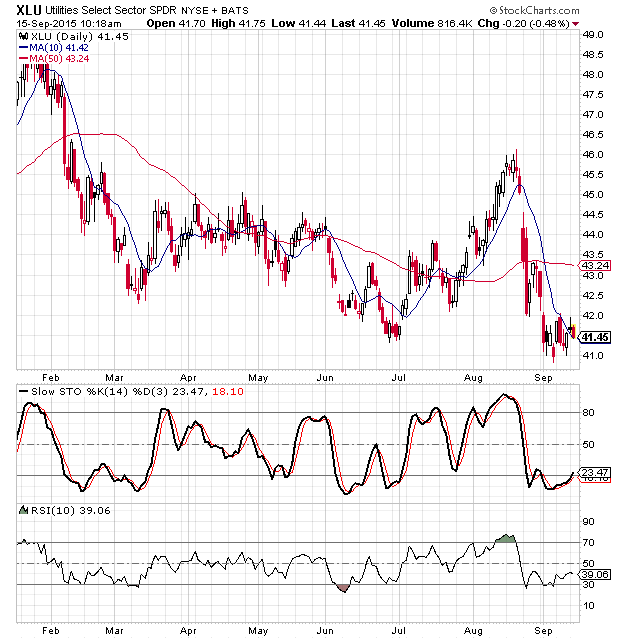 While the daily chart showed a few things that made me look at the XLU as a possible bullish play, it was more of what I saw on the weekly chart that really led me to take a bullish stance on the ETF.
We see on the weekly chart that the XLU has pulled back to its 104-week (two year) moving average for the first time since the third quarter of 2011. We also see that the slow stochastic readings have reached oversold territory for the fifth time in the last three and a half years. Looking at the four previous instances where the readings reached oversold levels, we can see that the ETF rallied in the ensuing weeks. It may not have rallied sharply each time, but it at least rallied somewhat.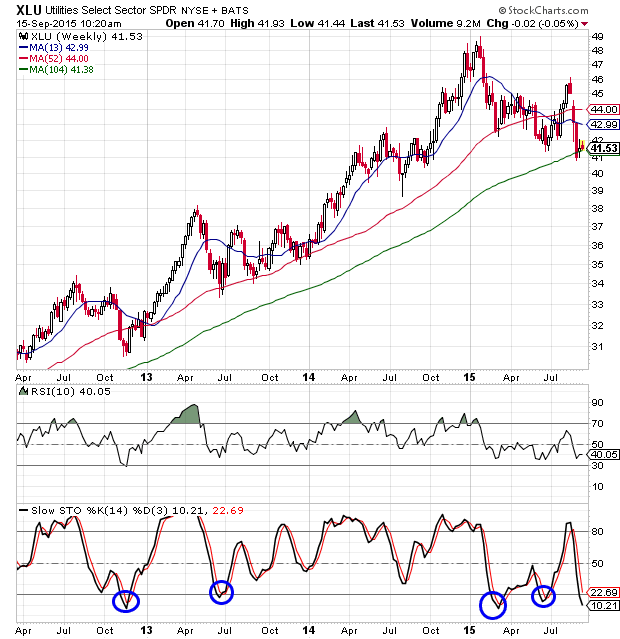 Here's another thing that led me to my conclusion: the safety of the utilities sector. With the FOMC meeting and rate decision coming on Thursday, we will likely see an increase in volatility and, depending upon how investors react, we could see another pullback by the overall market. The XLU would likely hold up better than most other stocks and ETFs.