This post This "Reset Trade" Can Net You Quick Double-Digit Gains appeared first on Daily Reckoning.
When will you ever learn?
You're still chasing around hot new stocks—without giving them a chance to settle down first. I can't even count the number of times I've warned you to give an IPO six months to a year to settle into life as a public company.
Buying a brand-spankin' new IPO is like juggling chainsaws. Sure, it looks cool. But you'll lose an arm unless you really know what you're doing.
So today you're going to see the right way to play an IPO. And this one can net you some fast double-digit gains, so get ready…
OK, so maybe you're not chasing around hot new stocks. But way too many investors make that exact mistake. And they've got the scars to prove it…
Case in point: formerly red-hot burger chain Shake Shack.
Do I like Shake Shack burgers? Yes. Do I think the stock will probably be a good buy sometime? Sure. But this heir to the McDonald's throne as America's new burger czar is suffering from a nasty post-IPO bellyache right now.
See for yourself: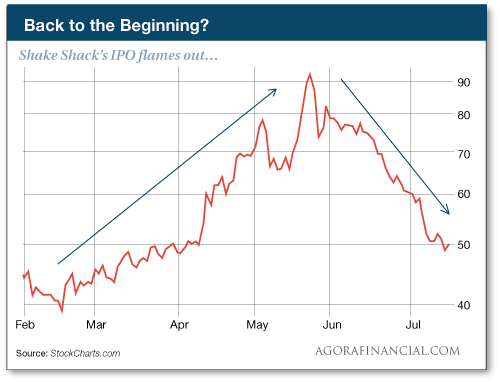 Up the mountain, down the mountain…
That's almost a total round-trip for this burger stock. After breaking above $90 back in May Shake Shack investors sold and went away—and forgot to come back. Now it's fallen below $50. That's a huge drop in just a couple of months.
But that's the story with most popular IPOs. Wall Street whips retail investors into a frenzy, then cashes in. That's one of the most important things you need to remember as an investor: IPOs don't come around to make you money…
They come around to make the company, underwriters, and early-bird institutional investors with deep pockets money. Never forget that.
But don't worry—you can get in on the action, too. If you're patient, that is…
You have to wait for a new IPO to "reset" before diving in. Sure, every once and a while you'll miss out on one of these things that blasts off right away and doesn't look back.
But for the most part, even the most successful IPOs offer a nice reset window you can take advantage of. Heck, even Facebook took more than a year to trade back above its IPO price after it fell on its face out of the gate—and it's more than doubled since its 2013 breakout.
So the next time you're tempted by a red-hot IPO, go shackle yourself to the basement floor until you think better of it. It's better than the alternative.
Regards,
Greg Guenthner
for The Daily Reckoning
P.S. Don't chase IPOs!  If you want to cash in on the biggest profits this market has to offer, sign up for my Rude Awakening e-letter, for FREE, right here. Stop missing out. Click here now to sign up for FREE.
The post This "Reset Trade" Can Net You Quick Double-Digit Gains appeared first on Daily Reckoning.