Previous Guests
Click here to listen to previous episodes.
About Chen Lin
Author "What is Chen Buying? What is Chen Selling?" Chen grew $5,400 to $2.3 million in 10 years. Learn More
This Rare Market Signal Says The Trump Rally Is For Real
From Chris Ciovacco: The True Strength Index (TSI) is a momentum oscillator based on a double smoothing of price changes. As shown in the monthly S&P 500 graph below, a positive momentum crossover (black moves above red) has only occurred four times since 2002.
In the three previous cases, the S&P 500 rallied for a long period of time after the crossover; the average gain was 52%.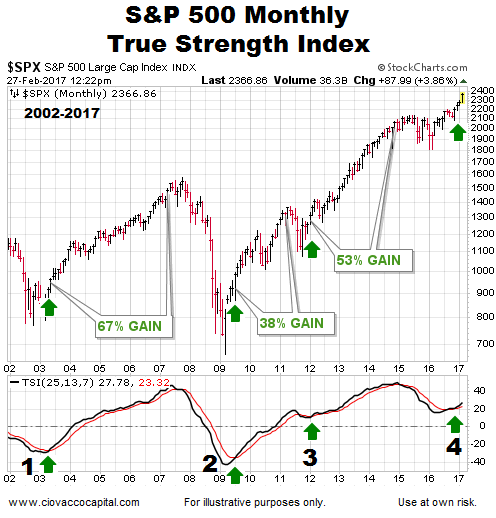 Indicators Speak To Probabilities
Since no indicator can predict an uncertain future, the bullish crossover that recently occurred helps us with the probability of goods things happening relative to the probability of bad things happening over the coming months and years. Signals on monthly charts tell us little about the next few hours, days, and weeks. From Stockcharts.com.
As with MACD, a signal line can be applied to identify upturns and downturns…TSI is somewhat unique because it tracks the underlying price quite well. In other words, the oscillator can capture a sustained move in one direction or the other. The peaks and troughs in the oscillator often match the peaks and troughs in price.
Do Other Long-Term Indicators Align With TSI?
The True Strength Index tells us long-term momentum has improved in a bullish manner. This week's video looks at other ways to monitor the strength of the current rally by comparing 2017 to major bullish and bearish turns since 1996.
After you click play, use the button in the lower-right corner of the video player to view in full-screen mode. Hit Esc to exit full-screen mode.


Bullish Cross Came After Election
Markets move based on an almost infinite number of factors, including anticipated regulation and fiscal policy. The True Strength Index had a much more concerning look prior to the U.S. Election. In the figure below, monthly TSI for the S&P 500 as of October 31, 2016, is shown on the left. The same indicator is shown as of February 27, 2017, on the right.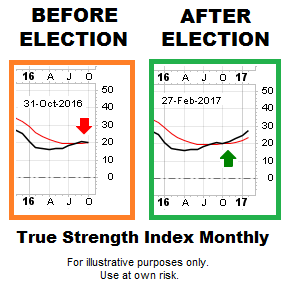 President To Address Congress
Markets will be looking for new information on tariffs, taxes, regulation, and infrastructure when President Trump speaks to a joint session of Congress Tuesday. From NPR:
This week the White House has hinted at a different mood, using words such as "sunny" and evoking the memories of President Reagan's often heart-tugging rhetoric in his speeches to Congress and the nation. We can expect to hear more about what's going right in America.
The SPDR S&P 500 ETF Trust (NYSE:SPY) was trading at $237.16 per share on Monday afternoon, up $0.42 (+0.18%). Year-to-date, SPY has gained 6.10%, versus a % rise in the benchmark S&P 500 index during the same period.
SPY currently has an ETF Daily News SMART Grade of A (Strong Buy), and is ranked #1 of 109 ETFs in the Large Cap Blend ETFs category.
---
This article is brought to you courtesy of Ciovacco Capital.
You are viewing an abbreviated republication of ETF Daily News content. You can find full ETF Daily News articles on (www.etfdailynews.com)
Powered by WPeMatico