Technical analyst Gary Savage in his chart of the day brings us a look at how gold has been performing for the past couple of weeks, and looks ahead to the next bounce higher.
Gold is 13 days into its daily cycle. At some point soon there will be a dip into a half cycle low. That will be the next opportunity to buy long.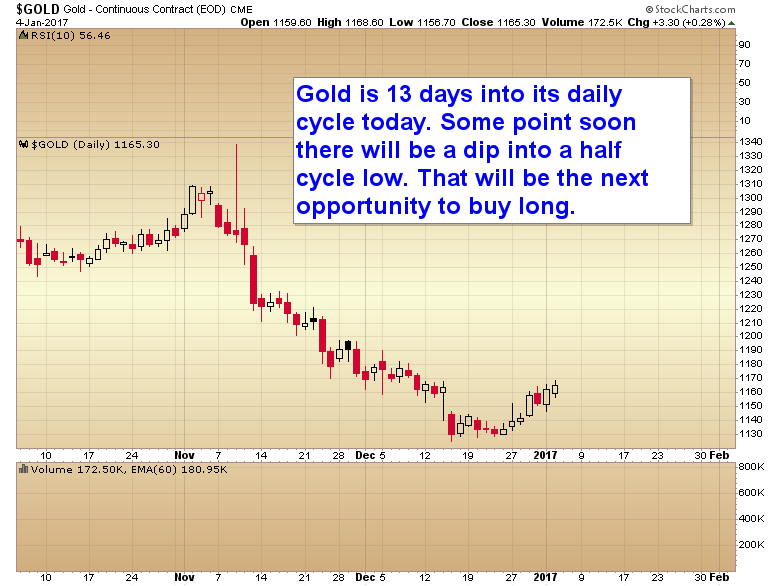 Gary isn't alone in seeing a potential uptick in gold looming. On average, a wide-ranging group of Wall Street analysts surveyed by Bloomberg believe the yellow metal will gain 13% in value this year. That would be a welcome development for gold bugs, which suffered through a major bearish pullback in the second half of 2016.
SPDR Gold Trust ETF (NYSE:GLD) rose $1.19 (+1.07%) in premarket trading Thursday. Year-to-date, GLD has gained 2.13%, versus a 1.17% rise in the benchmark S&P 500 index during the same period.
GLD currently has an ETF Daily News SMART Grade of C (Neutral), and is ranked #2 of 29 ETFs in the Precious Metals ETFs category.
---
This article is brought to you courtesy of Smart Money Tracker.
You are viewing an abbreviated republication of ETF Daily News content. You can find full ETF Daily News articles on (www.etfdailynews.com)
Powered by WPeMatico