This post The Truth About 2016 Oil Supply and Demand (It's Not What You'd Expect!) appeared first on Daily Reckoning.
Raise your hand if you are an investor in oil companies and mentally exhausted from the market downdraft of 2015.
Both my arms are in the air.
But I haven't given up. And I am going to tell you why…
Data Point 1 — Since May, American Inventory Movement Has Normalized
If I did nothing but read oil glut stories on the Internet and watch CNBC, I would have no optimism for an oil recovery… ever.
Last month, there was an enormous amount of media coverage of a growing oil "glut."
I don't dispute the fact that there is a lot of oil in storage around the world. But I do dispute the fact that the glut is worsening. What I'm seeing in the data suggests that changes in inventory levels have pretty much normalized since May.
I went to the EIA website and pulled out weekly data on crude inventory levels dating back to the start of 2010. What I wanted to determine was what inventory movements looked like in the U.S. in 2015 relative to prior years.
Here is what I found: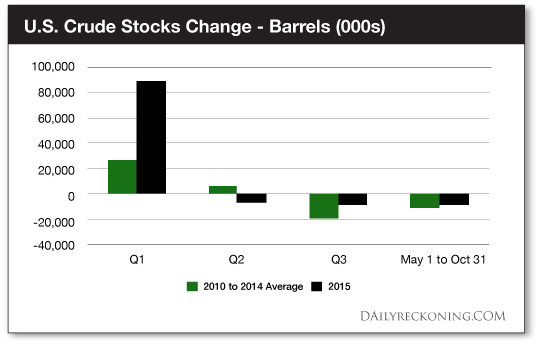 This graph requires some explanation. The black columns are inventory changes in 2015. The blue columns are the average inventory changes for the years 2010-14.
Q1: A huge increase in inventory in 2015 (90 million barrels) relative to the average increase from 2010-14 (25 million barrels). There is no doubt that the market was oversupplied in the first quarter. This quarter is the primary cause of the huge amount of oil in inventory.
Q2: Inventory levels in 2015 actually decreased slightly (6 million barrels) this year relative to a very small inventory increase (6 million barrels) in the average year from 2010-14. There does not seem to be an unusual oversupply in the second quarter.
Q3: Inventory levels this year came down by 7.5 million barrels this year, which was less than the 19 million barrels that 2010-14 averaged. This year is a little worse than normal, but not much.
May 1-Oct. 31: The inventory change in the U.S. in 2015 is virtually identical to the 2010-14 average. The amount of oil going into storage since May 1, 2015, does not suggest that oil supply and demand are out of balance at all.
What these U.S. storage levels say to me is that yes, we have too much oil in storage but that it all came from the last couple of months of 2014 and the first four months of 2015.
The glut is not getting worse in the United States.
Data Point 2 — Global Inventories Have Also Been Normal Since May
What does the rest of the world look like? I found some more encouraging data in the November OPEC Monthly Oil Market Report: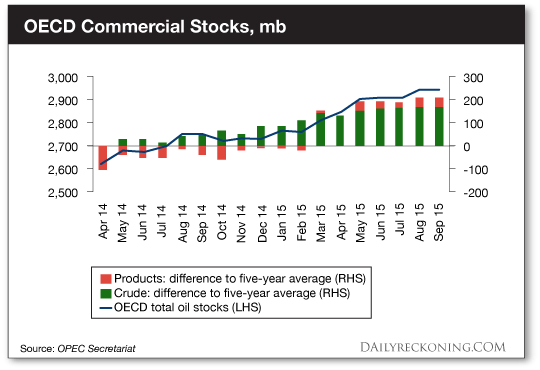 The green and brown columns in the chart above represent how much above the five-year average OECD oil inventories are. The taller the column, the further above the five-year average OECD inventories are.
This chart says the same thing that we saw in the U.S. data. Inventories are high, but they stopped growing in an unusual manner in May 2015. In May, OECD inventories reached 200 million barrels above the five-year average and have pretty much stayed there since.
We have too much oil in inventory, but daily oil supply and demand no longer seem to be out of balance. The reason for that is production is now falling and demand continues to increase.
Data Point 3 — The U.S. Production Decline Is Accelerating
There is some general acceptance now that U.S. oil production peaked at around 9.6 million barrels this spring and has since dropped 400,000-plus barrels.
This decline and a strong demand response are why we have seen changes in inventory normalize from May onward.
Recent forward-looking data from the EIA suggest that this decline in production is still happening at an accelerating rate. The December Drilling Productivity Report from the EIA for December shows shale production falling 118,000 barrels per day in that month alone.
Of note, the Eagle Ford formation in South Texas – a huge oil growth engine for the U.S. shale boom — is the biggest reason for that decline.
This is not a trend that is going to reverse itself anytime soon, as the number of rigs drilling continues to drop. Also encouraging is the fact that data out of North Dakota for September show that Bakken production has declined significantly for the second month in a row. September production levels in the Bakken are 45,000 barrels per day lower than in July.
In an effort to see where Bakken production might be headed, I checked in on Continental Resources' recent earnings conference call. Harold Hamm's company, which averaged 229,000 barrels of production in the third quarter, said it will exit 2015 at just 210,000 barrels of production. That is an 8% drop in just a few months and I believe a good representation of what overall Bakken production will do.
Data Point 4 — OPEC Production Dropped in October
The single biggest reason why oil is still stuck at such a low price is OPEC. Had OPEC just kept production flat from 2014 levels, the oil market would be in a much better place. Indeed, instead of keeping production flat, Saudi Arabia and Iraq kept pumping A LOT of oil.
During OPEC's November meeting they also announced that there won't be a cap on production – and that OPEC is currently producing some 31.5 million barrels of oil per day.
To make a significant difference in the price of oil, OPEC needs to make a production cut.
So when will that happen? Well we'll certainly have a front row seat in 2016. Certain members of OPEC aren't happy with the low price of oil and the continuous pumping from Iraq and Saudi Arabia. Will we hit a breaking point? We'll have to wait and see!
Of course, it would seem like a good idea when the result is billions and billions of additional dollars in revenue. But the Saudis certainly have not signaled any interest in cutting, so I'm not optimistic that we will get any help.
Time Will Fix the Price of Oil
Whether OPEC cuts or not in 2016, this market is slowly fixing itself.
Supply is coming down outside of OPEC, and global daily oil demand continues to grow. Demand is up big this year… even the IEA (which chronically underestimates demand) is showing 2015 demand up 1.8 million barrels.
Demand will keep growing on a global scale as well. And this will especially be the case with oil prices as low as they are today.
Every month, the IEA, EIA and OPEC come out with forward guidance on where global oil production is headed. Every month, they revise those numbers down. The number of major oil development projects cancelled has a total that is now in the hundreds of billions of dollars.
Keep looking through the windshield,
Jody Chudley
The post The Truth About 2016 Oil Supply and Demand (It's Not What You'd Expect!) appeared first on Daily Reckoning.