This post The Real Reason Stocks Cant Break Oil's Grip appeared first on Daily Reckoning.
No matter how hard the market's tried to escape, oil's dragged it around on a tight leash. As I explained earlier this month, a down day for oil has also meant a down day for the major averages. And vice versa.
The magnitudes of their fluctuations haven't matched up. But directionally, stocks and oil have been joined at the hip this year.
Stocks attempted a daring escape in early February. Two weeks ago, the major averages finished higher while crude plummeted more than 6%. Not only did stocks rally, they did so without any help whatsoever from energy or material stocks.
But it doesn't look like oil and stocks are willing to go their separate ways just yet. In fact, those couple days apart may have actually strengthened the bond between these two lovebirds.
And the Saudis are back in the news again this week, which could be relevant here…
"Saudi Arabia is 'not prepared' to cut oil production, its foreign minister said on Thursday, after the top exporter agreed with Russia to freeze output if major rivals follow," the AFP reports. "Saudi Arabia and other OPEC producers have refused to reduce output in an attempt to drive less competitive players, in particular US shale oil producers, out of the market."
Oil continued sneaking higher after Russia and the Saudis announced that tidbit earlier this week. It wasn't what oil bulls wanted to hear. They wanted a production cut because that would reduce supply and potentially help drive up prices. And they ain't gettin' one anytime soon…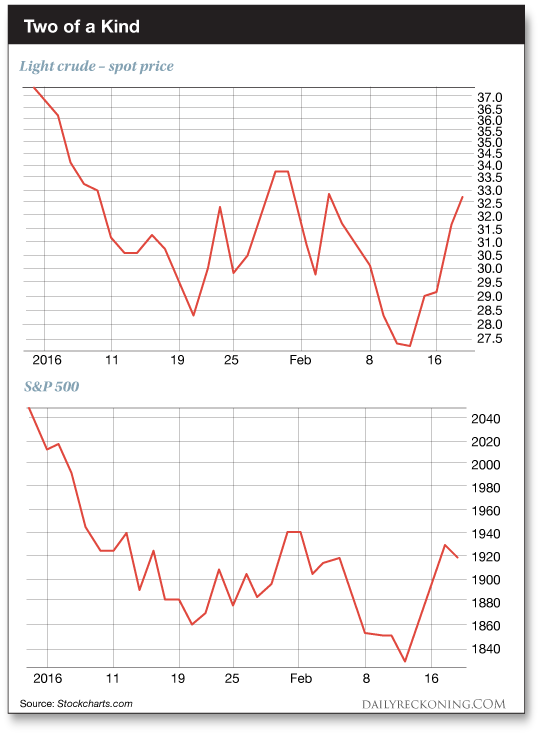 Now it looks like crude's rally might be running out of steam. Oil's down more than 2% early this morning. And wouldn't you know it—stocks are sneaking lower, too. We've seen this show before. It's becoming painfully clear that stocks have not broken free of oil's tractor beam.
I told you two weeks ago that if stocks make a clean break from oil's downward pull, it could set the stage for more stability. Oil and stocks rallied in tandem instead. Now their rallies are running on fumes simultaneously. Stocks are left at the mercy of the energy meltdown once again.
It's the same old story – again. The market already looks gassed after slipping into the red yesterday morning. Today, futures are indicating that the major averages will extend those losses.
One of the most frustrating aspects of a falling market is that we lose most of the "market of stocks" feeling that we get when sailing on smooth waters. This is a highly-correlated market. That means when the averages are green, most stocks are green. And when the averages are red, everything gets dragged down with 'em. Add in the high correlation with oil and you have a very difficult trading landscape.
On the bright side, our best opportunities—although few and far between—are shoving their way higher. With gold leading the way, your newest play jumped more than 5% by yesterday's close. Your Chipotle Mexican Grill (NYSE:CMG) trade is up 12% in just two weeks. And Campbell Soup Co. (NYSE:CPB)—an improbable momentum play—continues to push new highs.
Although these are very different stocks, they all share one common trait…
Until just a few weeks ago, no one wanted anything to do with these lame duck stocks. That's right—they're all comeback stories. While investors cash out of their winners, the market is searching for new superstars. It'll take a while for the herd to catch on. By then, these trades should have already rewarded you handsomely.
I told you at the beginning of the month that we could still beat the market—even when we're ultra-selective with our trades. While oil's gravitational pull and other factors have prevented us from trading as much as we would like, sticking with what works has kept us well in the green.
Sincerely,
Greg Guenthner
for The Daily Reckoning
P.S. Keep beating a busted market with ultra-selective trades–sign up for my Rude Awakening e-letter, for FREE, right here. Stop missing out. Click here now to sign up for FREE.
The post The Real Reason Stocks Cant Break Oil's Grip appeared first on Daily Reckoning.