Previous Guests
Click here to listen to previous episodes.
About Chen Lin
Author "What is Chen Buying? What is Chen Selling?" Chen grew $5,400 to $2.3 million in 10 years. Learn More
The Fed Must Raise Rates This Week, Or Risk A Market Shock
From Chris Ciovacco: Markets do not like surprises. If the Fed raises interest rates at Wednesday's FOMC meeting, it is not likely to be placed in the unexpected category.
From The Financial Times:
"Investors are placing a near 100 per cent chance of a Federal Reserve interest rate hike later this month – the first tightening of monetary policy under the presidency of Donald Trump."
Wednesday's Fed extravaganza features a press conference and updated forecasts from FOMC members.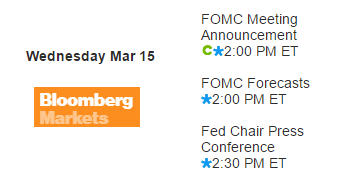 Rare And Rapid Shift In This Market Indicator
This week's stock market video covers a rare shift that has only occurred a handful of times over the past 35 years.
After you click play, use the button in the lower-right corner of the video player to view in full-screen mode. Hit Esc to exit full-screen mode.


Labor Report Checked Last Box
The Reuters consensus forecast heading into Friday's monthly labor report called for a gain of 190,000 jobs. The report came in above expectations with a print of 235,000. From Reuters:
"Wall Street's top banks were unanimous on the view the Federal Reserve will increase interest rates at its policy meeting next week following a stronger-than-forecast February U.S. payrolls report, a Reuters poll showed on Friday. "It ticks all the boxes for the Fed to move next week," said Michael Hanson, chief U.S. macro strategist at TD Securities in New York."
The iShares Barclays 20+ Year Treasury Bond ETF (NASDAQ:TLT) fell $0.02 (-0.02%) in premarket trading Tuesday. Year-to-date, TLT has declined -2.20%, versus a 6.39% rise in the benchmark S&P 500 index during the same period.
TLT currently has an ETF Daily News SMART Grade of C (Neutral), and is ranked #18 of 27 ETFs in the Government Bonds ETFs category.
---
This article is brought to you courtesy of Ciovacco Capital.
You are viewing an abbreviated republication of ETF Daily News content. You can find full ETF Daily News articles on (www.etfdailynews.com)
Powered by WPeMatico