This post The Coming May "Oil Buy Signal" appeared first on Daily Reckoning.
The moment we've been waiting for is here.
According to a report, released Monday by the U.S. Energy Information Administration (EIA), U.S. oil production will stop growing by May of this year. In particular oil production in the major US shale fields will decline by 57,000 barrels per day. This is the first such decline in shale production that I've seen since the boom started.
Simply put, that means the huge surge of growth for the past five years (or so) in America's shale patch is coming to an end. This is a watershed moment for the U.S. shale boom — and a vitally important moment for investors, too…
No. The about-face in U.S. oil growth doesn't mean production is going to dry up. Don't be silly. We've got plenty of economic Red White and Blue oil here in the states! But instead, this inflection point simply means that production growth is ending. There's a peak or a plateau about to form on the long-term chart. This is big news.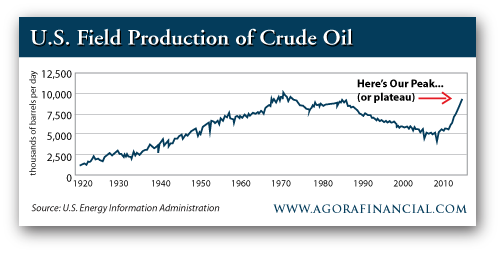 Rhetorically speaking, why wouldn't production be peaking!?
With oil prices falling off a cliff in the past 12 months, it's no wonder savvy U.S. producers have lowered their rig count (down some 50%), cut back on capital expenditures (down 30-50% on aggregate) and in some cases even delayed completions.
This is where the rubber meets the road, my friend!
We're finally seeing a much-awaited change in the drilling trend. This is an important step closer to the new equilibrium for oil prices. This also marks the point where well-run producers will distinguish themselves from the "also rans."
But before we get to the effect "peak oil 2015" will have on the price of oil and oil companies, let's get something straight…
Just because shale oil is peaking here in the U.S. doesn't mean we're running out of oil. In fact, over the past few years U.S. oil exploration proved beyond any reasonable doubt that the U.S. has lots of economic oil under the ground. That's great news!
Sheiks vs. Shale? The U.S. doesn't have to "win" the battle and produce oil full throttle — but I can assure you that shale production for the U.S. is here to stay. That's much to the chagrin of the Saudis and much to the delight of every freedom-loving American.
So what does this mean for the price of oil?
First off, this means that we're likely going to see oil prices stabilize. Sure, we could see a rise to $65 or a drop down below $50, but for the most part, prices should be relatively stable for the next few months.
Remember, with less demand for drilling services, costs for many producers are still dropping. That means breakeven prices are even lower than expected. As I heard from Greg Hill, President and COO of Hess, they're "good down to $40 WTI." Indeed, if Hess is "good" down to a WTI price of $40, (and we're taking Hill's word for it,) we can assume the company's breakeven is at or below $40.
Taking that logic a step further and admitting there are better run companies out there, with better acreage, that means there's plenty of $40 oil here in America. We don't have to go out too far on the limb to bet that prices will be intimately tied to that breakeven price (plus the required return on capital that oil companies need to keep drilling.)
The other key to near-term oil prices has to do with domestic producers selling their production forward or "hedging." Once the price of oil heads north of $60 a barrel, you can assume a lot of sellers are going to come out of the woodwork. In other words, once prices rise above $60 shale producers are going to start selling their production forward. This selling will put inherent pressure on prices. And should keep prices rather comatose for the next few months.
We're entering a new equilibrium for oil prices — and it's all playing out right in front of our eyes. Barring any big Middle East disturbance in the next few months — I'm looking at you Saudi(!) — the price of oil should stabilize here. And sit range-bound in the $50-65 range.
So what does this mean for shale producers?
A stable oil price and a new equilibrium is great news for U.S. producers.
Having a static number for the bean-counters to plug into their equation will once again make well-run producers profitable. It won't be like the go-go days of 2014, but at least companies can wade back into the water without any legitimate fear of "$20 oil."
Add it all up and well-run producers are worth a hard look. Now that we know U.S. oil production is set to peak in May, it's only a matter of time before well-run producers make a nice rebound.
One company I like around its current price is Synergy Resources (NYSE: SYRG.)
The writing is on the wall for 2015's peak in production. And while we watch the action unfold, this may represent your last shot at picking up some bargains.
Keep your boots muddy,
Matt Insley
for The Daily Reckoning
P.S. Ever wonder how you can make a lot of money from oil without owning a well? Or whether or not you should buy gold and silver? Or is fracking just a flash in the pan? Get insight, insider scoops and actionable investment tips twice a week with Daily Resource Hunter? Just click here for a FREE subscription!
The post The Coming May "Oil Buy Signal" appeared first on Daily Reckoning.