Diane Alter:  The SPDR Gold Trust (NYSEARCA:GLD) ETF is the world's largest gold-backed exchange-traded fund. While the GLD ETF started the year strong, it's now down just 0.07%, trading around $113.
But the GLD ETF is a good way for investors to collect some extra gold profits without the hassle of physical gold buying.
And with gold prices forecast to rise over the long term, the GLD ETF will rise as well.
Here's a look at the benefits of buying the GLD ETF…
GLD ETF to Climb in 2015
Gold prices climbed 1.2% last week. After spiking to $1,193 an ounce, gold ended Friday's session up $6.70, or 0.6%, to $1,188.90.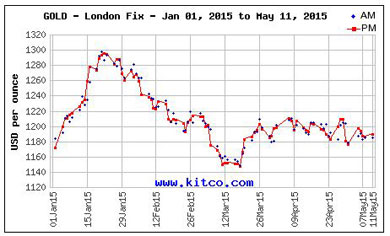 Gold prices have been stuck in a tight range over the last several months. Gold started 2015 strong. A robust two-week January rally sent gold prices up 11%.
Yet amid one of the strongest dollar rallies in a decade, and concerns of slowing growth in China, yellow metal prices faltered. Gold's year-to-date gains now sit at 0.44%.
Money Morning Resource Specialist Peter Krauth, however, sees brighter days ahead for gold prices.
He recently detailed a number of compelling reasons why. Krauth projects gold will end Q2 in the $1,250 to $1,270 range. That would be some nice upside from gold's current $1,188.90.
Gold has recently fallen off some people's radar. But as soon as something significant happens, and something significant somewhere is always about to happen, gold prices will take off.
That's why it's always wise to hold some gold – and the GLD ETF is an indirect way to "own" part of the physical metal…
Why Buy the GLD ETF
According to ETF.com, there are currently 38 ETFs that invest in gold, up from 16 in 2010. Gold ETFs are an increasingly popular choice for investors.
Gold ETFs provide investors with exposure to the yellow metal by tracking the price of gold. They are a convenient, liquid, and cost-effective way to own and trade gold.
The GLD ETF launch was aimed at lowering many of the barriers, including access, custody, and transactions costs, which had previously prevented some investors from investing in gold. Since shares are listed and traded on a regulated stock exchange, investors can easily and securely buy and sell shares during any regular trading session.
"The analog [to GLD] is that to buy one share of GE I don't have to go to their sales guy, I press a button on my computer and I own it," World Gold Trust Services (WGTS) managing director Jason Toussaint said to Forbes.
Since its inception in November 2004, the fund has gone up 153%, despite a 27.05% drop in 2013 – gold's worst year since 1981.