This post The Biotech Beast is Back – Here's How You Can Play It… appeared first on Daily Reckoning.
Pssst…Hear that sound?
That's the sound of the biotech bubble not bursting. It's due for a hefty bounce. And we could be looking at some torrid gains here as a new biotech rally mounts.
All the so-called experts say the sector's one big frothy bubble. Just Google "biotech bubble 2015" and you'll see what I mean.
And yes, last month we took profits on our big biotech trade. But not because we thought the bubble was about to burst. We just thought our trade was getting a little ahead of itself, that it might need a breather before heading north again. Big difference.
Here's how it works: Selling winners is one of the toughest aspects of trading. You won't always time it exactly right. But you just have to take your money and run sometimes, especially if you see evidence your trades are beginning to overheat. That's because the market could almost instantly take back all the ground you've worked so long to gain… and then some.
Better a day too early than a day too late. Right?
On March 23rd I told you to take double-digit gains on our Biotech iShares (NASDAQ:IBB) trade. IBB had thundered nearly 21% higher year-to-date while the S&P 500 was up only about 2%.
The market was trying to tell us something. Biotech was getting tired. It needed to blow off some steam. And a day before we told you to sell and get out of Dodge, IBB shot out of the gate early, only to run out of breath later in the day. That's a sign of short-term exhaustion.
So we sold. The market pulled back. And now here we are…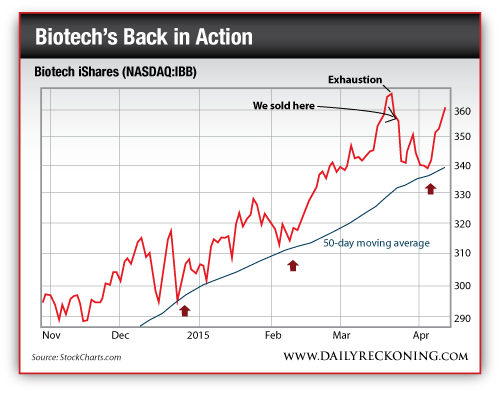 That pullback had plenty of folks flipping out—screaming about the biotech apocalypse. But remember, I told you it was wayyyyy too early to tell if we were just dealing with some short-term exhaustion in biotech…or a flat-out crash.
That's because powerful trends like the recent biotech boom can have the volatility of a volcano, especially when the buying gets extreme.
But after sitting dormant for the past few weeks, Mr. Market is telling us to get back in the game. Just look at the chart.
IBB fell all the way back to its 50-day moving average—and bounced perfectly. That's the calling card of a healthy pullback.
So don't file those horns down just yet, biotech bulls. That bounce you're seeing right now could quickly propel this sector to new highs in a matter of days. Traders are already pouncing on some of the faster-moving biotech names.
Just don't tell the experts…
Regards,
Greg Guenthner?
for The Daily Reckoning
P.S. The biotech bull isn't done running yet. Hop aboard today. If you want to cash in on the biggest profits this market has to offer, sign up for my Rude Awakening e-letter, for FREE, right here. Stop missing out. Click here now to sign up for FREE.
The post The Biotech Beast is Back – Here's How You Can Play It… appeared first on Daily Reckoning.