Kyle Anderson:   We've already seen more than $100 billion spent on mergers and acquisitions in 2015. That's nearly triple the $37.7 billion we saw in all of 2014.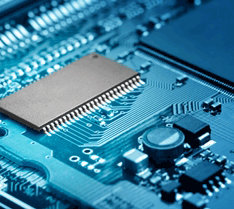 Now, Money Morning Defense & Tech Specialist Michael A. Robinson has found the best technology ETF on the market to profit from this massive M&A wave.
When analyzing this year's 276 M&A deals, Robinson honed in on one particular industry: semiconductors.
In 2015, the average size of semiconductor mergers has been $364.5 million. Last year, semiconductor deals averaged a size of just $102 million. The research firm IC Insights has reported that the average semiconductor deal in the first half of 2015 was six times the larger than the average deal between 2010 and 2014.
"What's going on is so profound that I believe that, for the semiconductor industry at least, 2015 will go down as 'Year of the Mega-Merger,'" Robinson said.
Some of the biggest deals we've seen in 2015 include:
Avago Technologies Ltd.'s (Nasdaq: AVGO) $37 billion purchase of Broadcom Corp. (Nasdaq: BRCM) on May 28.
Western Digital Corp.'s (Nasdaq: WDC) $19 billion acquisition of SanDisk Corp. (Nasdaq: SNDK) on Oct. 21.
The $16.7 billion acquisition of Altera Corp. (Nasdaq: ALTR) that Intel Corp. (Nasdaq: INTC) announced on June 1.
Lam Research Corp.'s (Nasdaq: LRCX) $10.6 billion purchase of KLA-TencorCorp. (Nasdaq: KLAC), which also took place on Oct. 21.
Robinson says one of the biggest reasons for 2015?s M&A mania is the cost of producing a new semiconductor line has climbed 230% from $30 million in 2005 to $100 million today. He also says established companies can use mergers to breaking into growth markets like cloud computing and the Internet of Everything.
"The result is that chipmakers are merging so they can take advantage of new growth opportunities and the higher profit margins that accrue with more output at lower overhead," Robinson said.
And the best technology ETF to play this M&A trend is up 8% this year, with more gains ahead…
The Best Technology ETF to Play M&A Now 
The top technology ETF we like for M&A profits is SPDR S&P Semiconductor ETF (NYSEARCA:XSD).
XSD has 40 holdings at the moment, so Robinson says that gives investors access to both the buyers and sellers in these M&A deals.