Diane Alter: Looking for some solid large-cap stocks as a reliable addition to your portfolio? You can invest in all the best large caps at once with one investment…
Large-cap stocks are equities with a market capitalization of more than $50 billion. A good diversified portfolio contains a mix of small-cap, medium-cap, and large-cap stocks. Here's what large caps bring to the table:
Large-cap stocks are tied to big, established companies. Most are industry leaders. Businesses represented in this mature asset class typically consist of companies in their later stages of development capable of weathering market shocks and distributing more of their earnings to investors, according to Morningstar. Many large-cap companies fall into the blue-chip stock category. Blue chips have a long history of solid earnings and financial stability. For these reasons, large caps are often deemed safer investments than small caps. They are attractive investments for conservative market participants.
Large caps are more likely to pay dividends. Plus, their reliable revenue stream and consistent earnings mean they are also likely to regularly boost their payouts. This creates a steady income stream for yield seekers. All 30 Dow components – which are large-cap stocks – pay a dividend, and 421, or 84%, of S&P 500 constituents do, according to FactSet.
While large-cap stocks aren't immune to recessions or a market pullback, most tend to fare better than small caps or high-risk investments in such environments. On Monday, June 29, as Greece's debt woes rattled global markets, the Russell 2000 small-cap index tumbled 2.58%. The large-cap Dow benchmark, meanwhile, slipped 1.95%.
Among the most widely held and recognizable large-cap stocks are Apple Inc. (Nasdaq: AAPL), General Electric Co. (NYSE: GE), Johnson & Johnson (NYSE: JNJ), Wells Fargo & Co. (NYSE: WFC), and Exxon Mobil Corp. (NYSE: XOM).
All are nice anchors for any portfolio.
Here's a way to add these five solid large-cap stocks to your portfolio, along with 1,247 more cream-of-the-crop large caps…
The Best Large-Cap Exchange-Traded Fund (ETF)
The iShares Dow Jones U.S. Index Fund ETF (NYSEARCA:IYY) provides exposure to a broad range of large U.S. companies. Its goal is to add long-term growth to an investment portfolio.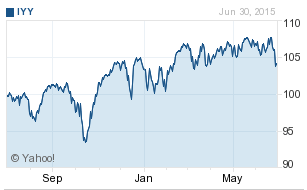 In addition to the five names listed above, other top holdings among IYY's 1,252 include Microsoft Corp. (NASDAQ:MSFT), Berkshire Hathaway Inc. (NYSE:BRK.B), JP Morgan Chase & Co. (NYSE:JPM), Pfizer Inc. (NYSE: PFE), and Procter & Gamble Co. (NYSE: PG).