Kyle Anderson:  ETF investing is a safe, easy way to profit from a booming industry, without the risk of buying into a specific stock.
That's why we've compiled the list of the three best ETFs to own for 2015.
These ETFs give investors exposure to three of today's most profitable industries on the market:
One ETF deals with a $575 billion global problem.
Another is in the midst of a $166 billion M&A spree.
The third "best ETF" plays the market's highest-performing index and invests in some of the world's most innovative companies.
Take a look at the three best ETFs to own today …
Best ETFs to Own for 2015, No. 1: HACK
The first ETF we recommend is the PureFunds ISE Cyber Security ETF (NYSE Arca: HACK). It's an ETF that invests in cybersecurity, one of the fastest-growing industries on the market.
Last year, more than $95 billion was spent on cyber defense. That total is expected to hit $155.74 billion by 2019, according to research firm MarketsandMarkets. That's a 63% growth rate.
IBM Corp. (NYSE: IBM) claims its client companies are attacked 16,856 times per year on average.
Each year, cybercrime costs the global economy more than $575 billion,annually.
The biggest names in the industry have also been some of the biggest winners.FireEye Inc. (Nasdaq: FEYE), one of the most recognizable names in the industry, is up 68.6% in 2015. The Dow is up just 0.5% in the same time.
But these stocks can also be very volatile. Last July, FEYE stock fell nearly 18% in the first week of the month.
That's why we recommend the HACK ETF. It holds some of the biggest names in cybersecurity like Cyberark Software Ltd. (Nasdaq: CYBR), Qualys Inc. (Nasdaq: QLYS), and Infoblox Inc. (NYSE: BLOX). Those three stocks alone are up 81%, 19%, and 34% in 2015, respectively.
"One of the things I really like about HACK is its industry-specific diversity," Money MorningSmall-Cap Investing Specialist Sid Riggs said. "HACK is most heavily invested in the systems software industry, which will prove to be a great stabilizing force for the fund. That's the sphere of the IT sector that's been growing most reliably since 2010, with the consulting firm Gartner Inc. already forecasting enterprise software to grow by 7.3% in 2015."
HACK is up 24.4% in 2015. It has more than $990 million in assets and has an expense ratio of 0.75%.
Continue reading for two more of the best ETFs to own for 2015.
Best ETFs to Own for 2015, No. 2: FBT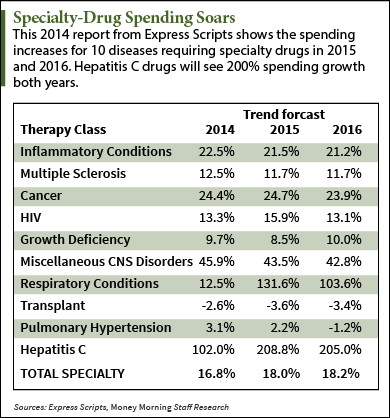 We're also targeting the pharmaceutical and biotech industries with our ETF investing strategy in 2015. Our top pick is the First Trust NYSE Arca Biotech ETF Fund (NYSE: FBT).
You see, drug spending has increased across the board.
According to the IMS Institute of Health, global cancer spending topped $100 billion for the first time in 2014. That was 10% higher than it had been in 2013.
Almost every specialty drug will see a hike in spending in both 2015 and 2016 as well, says Express Scripts. Hepatitis C treatments will lead the way, with growth of 208% in 2015 and 205% in 2016.
Spending on inflammatory conditions is expected to grow more than 21% each year. Multiple sclerosis spending will jump by 11% each year. Respiratory conditions will see sales growth of 131% and 103%.