Lawrence Meyers: I'm more comfortable with value investing than I am with growth stocks.
I think I got burned once too often with growth stocks around the time the dot-com bubble burst.
So when it comes to finding value stocks, I feel a bit more at home.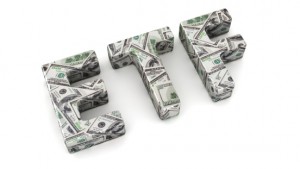 Yes, growth stocks have their place, as I wrote a couple of weeks ago. But I think holding large-cap value ETFs of some kind in a long-term diversified portfolio is very important.
Which large-cap value ETFs are right for you? It depends on what kind of investor you are. So, here are three possible choices – one each for the aggressive investor, conservative investor and general investor.
For conservative investors, have a look at Vanguard Value ETF (NYSEArca: VTV). One of the cheapest ETFs in the category, it carries an expense ratio of 0.09%. It's up 2.33% year-to-date.
With 323 holdings and a median market cap of $81 billion, you are really getting the cream of the large-cap value crop here. The top 10 holdings only account for 25.4% of the total asset base, and they are safe and reliable investments.
The sector diversity of the Vanguard Value ETF is impressive. It has 22% of assets invested in financials, 18% in consumer goods and services, 15% in health care, 11% in industrials, 10% in technology and 10% in energy. The rest is divided between basic materials, telecom and utilities.
Here we find the kind of famous names you'd expect:  Exxon Mobil (NYSE: XOM), Microsoft (NASDAQ: MSFT), Johnson & Johnson (NYSE: JNJ), Verizon (NYSE: VZ), Wells Fargo (NYSE: WFC).
It's a very, very low turnover fund, with only 5.5% of stocks turned over in the past year. Its average price-earnings ratio is 17.4.
For aggressive investors, check out the First Trust Large Cap Value AlphaDEX ETF (NYSEArca: FTA). It has 197 holdings, so it isn't highly concentrated and therefore too risky, but it isn't too spread out, either. The top 10 stocks only make up 10% of the asset base, so you don't have too much concentration risk at this level, either. It's up 2.91% so far this year.
The expense ratio is a bit high at 0.64%, but that's not outrageous. Since inception, it has an average annual return of 6.68% versus the S&P 500's 6.36%.