That's the problem with fragility: everything looks fine on the surface until a crisis applies pressure. Then the whole rickety contraption collapses in a heap..
Life is inherently uncertain, but systems that were once considered certainties have increasingly become uncertain. Social Security is one example; recent polls reflect widespread doubts among Millennials and Gen-Xers that there will be any Social Security benefits left for them by the time they reach retirement age.
This doubt is fact-based; as the number of retirees swells, as Medicare costs soar ever higher and the number of full-time jobs paying into Social Security/ Medicare stagnates, these pay-as-you-go programs break down; Social Security is already paying out billions more than it collects from employers and employees.
Uncertainty is one thing, fragility is another. The socio-economic systems we rely on are also becoming increasingly fragile and prone to failure, for an entirely different set of reasons than those driving uncertainty.
Changing fundamentals drive uncertainty. The nation's demographics and stagnant wages for the bottom 95% are extremely unfavorable for pay-as-you-go programs like Social Security and Medicare; their future is uncertain because the inputs and outputs are changing.
Fragility is a function of systems being thinned by cronyism, self-serving insiders, fraud, lack of transparency, lack of competition, monopolies, profiteering and a decline of quality. Systems that become too costly due to the above dynamics are hollowed out as everyone seeks some way to reduce the costs. Redundancies are stripped out, staff is slashed to the bone, senior managers with the most experience are pushed out to lower payroll costs, quality control is whacked, and inferior inputs are presented as equal to the higher quality inputs that they replace.
When these weakened systems are under pressure or face a crisis, they crumble. Shoddy materials fail, inexperienced managers make hasty, ill-informed decisions, the barebones staff is overwhelmed, equipment that wasn't properly maintained to save money breaks down, and so on.
We're assured by financial authorities and the media that our banking system is now monstrously resilient and robust, and it is impervious to financial crisis. You're kidding, right? So when all the subprime auto loans go bust, and all the overleveraged commercial real estate loans go bust, and all the developing-world debt in U.S. dollars goes into default, and all the consumer debt issued to marginal borrowers goes bust, the hundreds of billions in losses are all going to be absorbed, no problem.
This is fragility writ large. You can bet the entire financial sector is making the same faulty, fragility-creating assumptions as a means of maximizing profits: only one auto loan in a hundred will go into default, near-zero commercial real estate loans will blow up, every dollar-denominated loan in the developing world will be paid in full, blah blah blah.
In other words, if we assume FantasyLand perfection of marginal borrowers–that once a global recession guts their opportunities to refinance and the income needed to service their loans, they will still magically make all payments in full and on time–the financial system is resilient.
Beneath the reassurances, the system is increasingly fragile because all the resilience has been stripped out of it to maximize profits in the current quarter. And as for the financial authorities–who believes the financial sector is serving the interests of the bottom 99.5%? Based on what evidence? Who believes the mainstream media is reporting the deteriorating fundamentals and the increasing fragility of our society's core systems?
All we need is a few overlapping crises to reveal the structural fragility and lack of trust/certainty in our core systems. Profiteering, cronyism, self-serving insiders, a decline in quality, gaming the system, fraud, opacity, propaganda, and the erosion of competence all seem like good clean fun when the weather is calm and the sun in shining. But the true nature of our systemic failure will only be revealed when multiple storms arise and the system is pushed to the limit.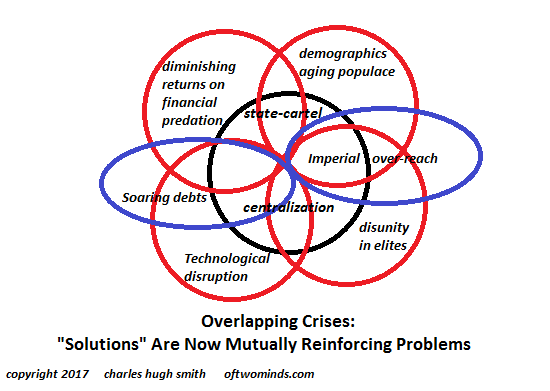 That's the problem with fragility: everything looks fine on the surface until a crisis applies pressure. Then the whole rickety contraption collapses in a heap.
If you found value in this content, please join me in seeking solutions by becoming a $1/month patron of my work via patreon.com.
---
NOTE: Contributions/subscriptions are acknowledged in the order received. Your name and email remain confidential and will not be given to any other individual, company or agency.
| | | |
| --- | --- | --- |
| Thank you, Michael M. ($70), for your outrageously generous contribution to this site — I am greatly honored by your steadfast support and readership. | | Thank you, Donald C. ($50), for your superbly generous contribution to this site — I am greatly honored by your support and readership. |
Go to my main site at www.oftwominds.com/blog.html
for the full posts and archives.
Powered by WPeMatico