This post Stocks Streak Higher–But Watch These Weak Spots appeared first on Daily Reckoning.
Surprise! The stock market is roaring higher this week.
The S&P 500 flirted with an all-time closing high Thursday afternoon. Looks like stocks are ready to sprint into the summer. So much for "sell in May and go away." Maybe we should change that little rhyme to "Buy in May, then stay." Or something like that…
What matters is that stocks don't give a damn about all the bearish talk we've been hearing recently. We built a wall of worry—and stocks just keep climbing it.
Take a look for yourself: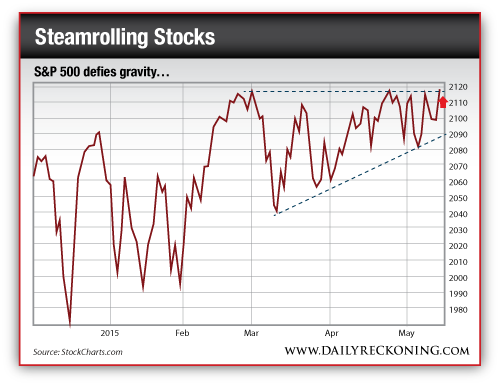 Stocks said screw you and are showing everyone they're ready for another big push. But not every sector is playing nice. There are still some weak spots in this market you should avoid if you want to buy into this rally.
So before you grab your shovel and start scooping up every stock on the market, you must understand we're still in a "market of stocks"– and you need to be selective.
The first weak spot is transportation stocks. We tried to play a bounce in transportation names in late winter/early spring. But yesterday proved these stocks aren't willing to play along. These things just can't catch a bid. Scratch them off the list…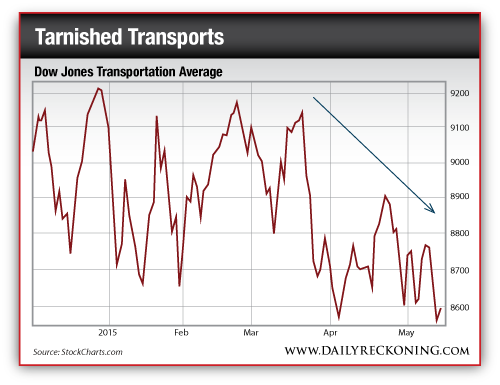 Then there are small-cap stocks. Earlier this year I couldn't stop talking about how small-caps would break out of their funk and start leading the market again. And that worked for a bit. But they've stumbled lately. The Russell 2000 small-cap index has slumped far more than the S&P over the past six weeks. Only now is it catching up…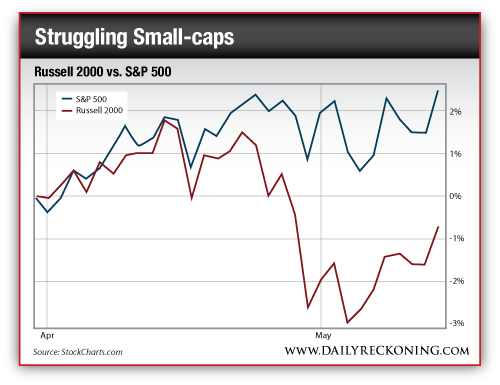 While the S&P is saddling up to its highs, the Russell is still about 3% away from its own. That's a lot of ground to make up. I still like smaller stocks in the long-term (microcaps are an official trade of the year here at the Rude) but it might take them more time to find their mojo.
So when you're looking for your next hot trade to finish off the week, I'd steer clear of these two areas and load up on stronger names instead.
Regards,
Greg Guenthner?
for The Daily Reckoning
P.S. It's time to go gold-digging. If you want to cash in on the biggest profits this market has to offer, sign up for my Rude Awakening e-letter, for FREE, right here. Stop missing out. Click here now to sign up for FREE.
The post Stocks Streak Higher–But Watch These Weak Spots appeared first on Daily Reckoning.