Chris Ciovacco:   The Federal Reserve has a dual mandate (employment and inflation). With the unemployment rate hovering near the Fed's stated level of full employment, it is getting harder and harder to justify keeping rates at "the world is about to end" levels. It became a bit tougher to justify zero rates Wednesday when the latest data on employment was released.
From Bloomberg:
Job openings in the U.S. surged to a record in July as hiring cooled, a sign employers are having a hard time finding qualified workers. The number of positions waiting to be filled jumped by 430,000, the biggest gain since April 2010, to 5.75 million, a Labor Department report showed Wednesday in Washington. That's the most in data going back to 2000.
Note in the text above "a sign employers are having a hard time finding qualified workers"; that statement tells us wage inflation could be around the corner.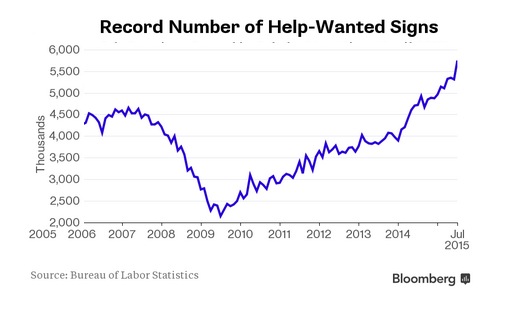 S&P 500 Stalled Near Resistance
On Wednesday, the S&P 500 made a second attempt to clear a band of possible resistance between 1970 and 1993; the attempt was not successful. The expression "what once acted as support may now act as resistance" applies to the chart below.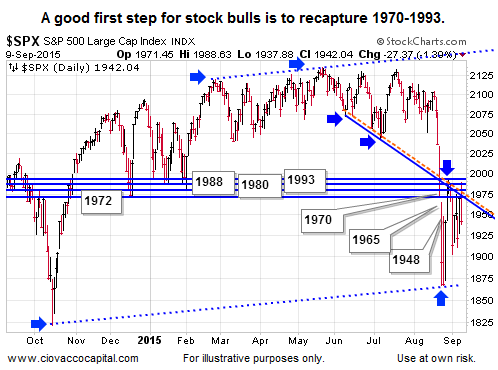 Similar To 2000 and 2007?
We recently examined stock market corrections, illustrating they can go on for weeks or months. A common response was "why did you not make a comparison to 2000 and 2007?" Ask and you shall receive – this week's video compares 2015 to the last two bear markets.
After you click play, use the button in the lower-right corner of the video player to view in full-screen mode. Hit Esc to exit full-screen mode.

Investment Implications – Rates Cannot Stay At Zero Forever
You may ask, "how can the Fed raise rates now?". Fair question, but a better question may be how can they justify keeping rates at emergency levels when we are not in an emergency situation. FromBloomberg:
Federal Reserve Bank of Richmond President Jeffrey Lacker said it's time for the central bank to end the era of record-low interest rates, now that the impacts from winter weather and energy prices have passed. "I am not arguing that the economy is perfect, but nor is it on the ropes, requiring zero interest rates to get it back into the ring," Lacker said in the text of a speech in Richmond. "It's time to align our monetary policy with the significant progress we have made."
The chart below shows that interest rates are at the exact same level they were in the wake of the collapse of Lehman Brothers (financial crisis 2007-2009).