Chris Ciovacco: While the S&P 500 (NYSEARCA:SPY) was able to push to a new high during Monday's trading session, the broad NYSE Composite Stock Index (NYSEARCA:VTI) was still looking for a close above an area that acted as resistance in the past.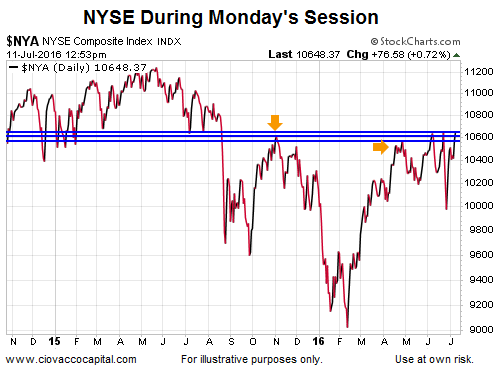 Are Stocks Set To Rocket Higher?
This week's video looks at the narrative for stocks breaking out and pushing higher, as well as the impact of slowing credit growth on asset class behavior.
After you click play, use the button in the lower-right corner of the video player to view in full-screen mode. Hit Esc to exit full-screen mode.

Stocks vs. Bonds Near Key Trendline
Like the NYSE Composite, the ratio of the S&P 500 (NYSEARCA:SPY) to a diversified basket of bonds (NYSEARCA:AGG) was testing a key area Monday.
If the ratio can push above the downward-sloping blue trendline, it would be a positive development for stocks relative to bonds.
Conversely, if the ratio fails to push/hold above the blue line, it increases the odds that Monday's stock breakout may be followed by relatively tepid price action.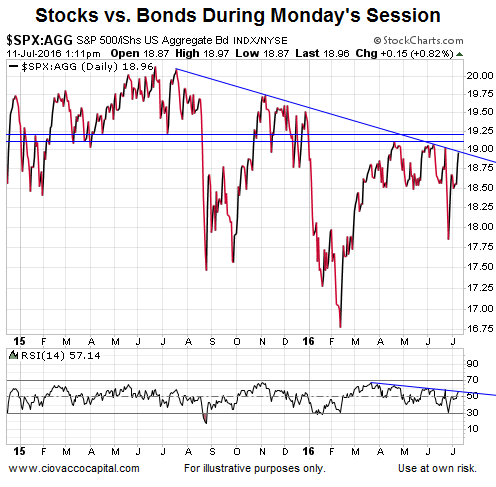 This article is brought to you courtesy of Chris Ciovacco from Ciovacco Capital.
You are viewing an abbreviated republication of ETF Daily News content. You can find full ETF Daily News articles on (www.etfdailynews.com)
Powered by WPeMatico