This post Stalking a "Sneaky Breakout" — Here's What to Do Now appeared first on Daily Reckoning.
Tired of this boring sideways market?
Listen, don't let the snoozing major averages fool you—stocks could get very interesting… very soon.
And today I'm showing you three trading rules to help you get ready…
"At a glance, last week was another pretty unremarkable week for the stock market," my good buddy Jonas Elmerraji explains. "The big S&P 500 index lost 0.15% between Monday's open and Friday's close, which is a small enough number that it doesn't really matter at all. All told, stocks were flat."
But Jonas adds, "technically speaking, though, it wasn't a meaningless week."
It wasn't a meaningless week. What the heck is Jonas talking about? Take a look at this sneaky little breakout in the S&P 500: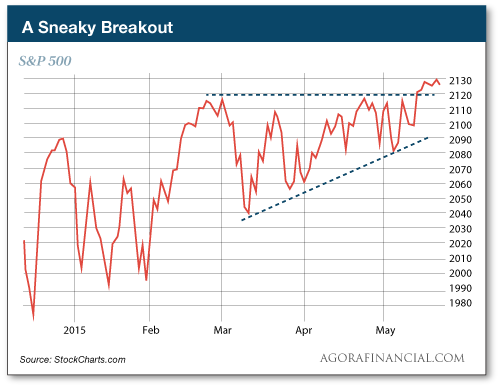 No, stocks ain't exactly off to the races. But they've managed to squeak out new highs—and a pretty significant breakout. That's why last week's action was important. And a positive week after a tough, choppy year has the potential to bring out some antsy traders.
But you must tread carefully because these are times when your emotions can get the better of you. It's easy to lose your discipline when you've been waiting around all day with a rod in your hand and you finally get a slight tug on the line. Is it "the big one"…or a minnow? Many traders feel they're onto something big. And their aggressiveness can get them into trouble.
Time will tell if this breakout sticks. But it's a clear possibility. So here's what you can do right now to get ready for whatever lies ahead:
Don't anticipate the market's next move. That's your first and most important task, especially if that initial move confirms your bias. The hell with your bias. React to the current state of the market instead.
Think back to all the false moves higher and lower earlier this year. It was impossible at the time to know if they had any legs, regardless of whatever hunch you had. So the key is to wait until a clear trend emerges. Only then should you put an oar in the water. In this case, the market appears to be breaking out. But we'll have to pay close attention to see if it can build some momentum.
Don't chase breakouts and breakdowns. Timing is especially critical when it comes to trading sideways and volatile markets like this. That's where our next rule comes into play: Don't chase.
A choppy market will eat you alive if you chase stocks. You can get stopped out within 48 hours if the rally breaks down. So wait until a clearer pattern emerges. Again, be patient. The best fisherman is a patient fisherman.
Adapt your time frame to beat the market. Getting "stuck" between timeframes can get you in trouble in a sideways market. It's hard to plan long-term without a clear trend. So unless you're trading with a very short time frame in mind (a projected hold time of less than 5 days), avoid throwing your cash at every longer-term trade that pops up, smart guy.
And keep an eye on your trailing stops. It's easy to forget about them in a boring sideways market. It can lull you to sleep. But markets can change rapidly, so pay attention. And if you're planning a long-term trade—if it craters on you, cut the cord. No questions asked.
There you have it – three specific strategies to keep in mind as we wait for the market's next move. It could be substantial—just don't overreact.
Regards,
Greg Guenthner?
for The Daily Reckoning
P.S. Remember, patience is a virtue. If you want to cash in on the biggest profits this market has to offer, sign up for my Rude Awakening e-letter, for FREE, right here. Stop missing out. Click here now to sign up for FREE.
The post Stalking a "Sneaky Breakout" — Here's What to Do Now appeared first on Daily Reckoning.