Previous Guests
Click here to listen to previous episodes.
About Chen Lin
Author "What is Chen Buying? What is Chen Selling?" Chen grew $5,400 to $2.3 million in 10 years. Learn More
Speculators Are Dropping Out Of Gold (And That's A Good Thing)
From Rudi Fronk and Jim Anthony: Rudi Fronk and Jim Anthony, cofounders of Seabridge Gold, examine the gold COMEX data and find it supports a bottom in the gold correction.
Last week we thought that we had seen the bottom in the gold correction. More evidence of that came Monday with the release of Friday trading data from COMEX. Last week, as the gold price began to fall towards its 50 day moving average where corrections usually end or breakdowns can begin, COMEX Speculators blew an enormous number of contracts out the window.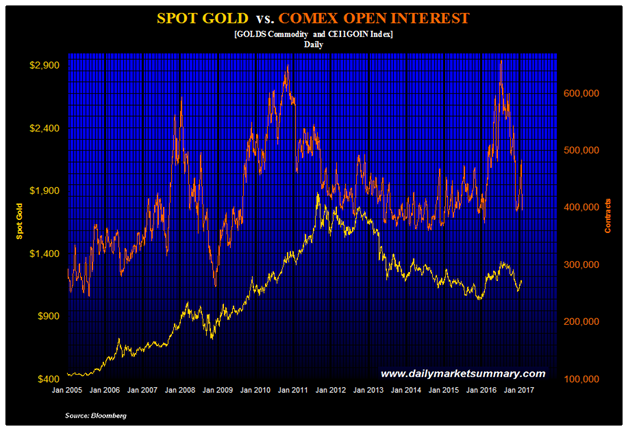 At the close last Monday, the Open Interest on COMEX was 483,408 contracts, a total which had grown quickly as the gold price advanced from the December low of $1124. At the Friday close, the Open Interest had fallen to just 395,599 contracts, a reduction of an enormous 87,809 contracts or 18.1% in just four trading days. Clearly, a large number of players panicked and liquidated BUT the price never even touched the 50 dma at $1178.
What happened? Was it fear of this week's Fed meeting (statement this Wednesday)? Or the employment report this coming Friday? We don't know. But it was the fastest, most aggressive liquidation we have seen in years. And it did not break gold. We think that's likely bullish.
The SPDR Gold Trust ETF (NYSE:GLD) fell $0.14 (-0.12%) in premarket trading Wednesday. Year-to-date, GLD has gained 5.42%, versus a 1.79% rise in the benchmark S&P 500 index during the same period.
GLD currently has an ETF Daily News SMART Grade of B (Buy), and is ranked #3 of 33 ETFs in the Precious Metals ETFs category.
---
This article is brought to you courtesy of The Gold Report.
You are viewing an abbreviated republication of ETF Daily News content. You can find full ETF Daily News articles on (www.etfdailynews.com)
Powered by WPeMatico