This post Space Mining Heads to Congress. Plus, More in This Week's Top Five Stories appeared first on Daily Reckoning.
Space Mining Heads to Congress
Back in July, we wrote about an asteroid passing by Earth that contained an estimated trillions of dollars' worth of precious metals (you can revisit that article here). Now the business of mining such valuables in space is making its way to Congress. Space mining — which has caught the attention of private investors — is becoming a complicated subject matter, as there are currently no laws that mandate the rights of property obtained by an individual anywhere but on Earth. But earlier this month, Congress approved a bill that could grant physical property rights to private companies looking to mine in space.
The bill states that U.S. citizens can own and sell "any asteroid resource or space resource" obtained through operations in space. You can read the full details of the bill by clicking here.
Protecting Your Smart Home From… Your Smart Home
An Israeli startup recently launched a device the helps protect you and your home from, well, you and your home. Dojo is a security interface that notifies the consumer via an app on their phone when a possible security threat looms from any number of smart devices in their home — whether it's an intruder hacking the system or that device sending your personal information and data to an outside source. Dojo is designed to be as user-friendly as possible, and the hardware is compliant with already-existing smart devices.
Find out how Dojo works to protect your information, and when it's expected to hit the market, by clicking here.
Bring in the Laser!
Lasers are usually synonymous with heat (or threatening your enemy in a sci-fi movie), but researchers in Seattle recently proved that lasers can act as a cooling agent for substances such as water, as well. Previously, laser cooling was achieved only in vacuum conditions, but the newest study out of the University of Washington was able to refrigerate water particles under normal conditions.
Researchers on the study are hoping that laser refrigeration can be applied to processes that require precise areas of cooling, especially in biotech research. Find out exactly how the laser cooling works by clicking here.
Glowing Bandage Indicates Possible Infection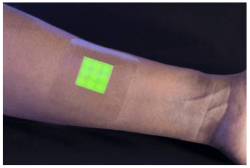 A new bandage has been created in the U.K. that indicates to medical professionals whether an infection is building in the wound beneath. The bandage contains nanocapsules that turn a florescent yellow when exposed to certain bacteria, assisting doctors and nurses in indicating whether the patient needs special treatment without the need to undress the wound and perform a series of tests.
Trials for the bandage are expected to begin soon. You can read the full article on the technology by clicking here.
Spin Your Way to a Cheaper Electric Bill
Finally, someone has solved the crisis that is lowering your energy bill and finding enough time in the day to work out. The Free Electric hybrid bike is designed to generate electricity as you pedal by turning a flywheel, which in turn churns a generator and charges a connected battery. The designer of the bike, Manoj Bhargava, claims that in just one hour of pedaling, you can generate enough electricity to power a rural home for as long as 24 hours.
Bhargava hopes his design will help bring clean and affordable energy to impoverished nations and plans to distribute 10,000 of the bikes to India by next year. Find out more about the mechanics of the Free Electric hybrid bike and watch a video of it in action by clicking here.
Regards,
Amanda Stiltner
for The Daily Reckoning
Ed. Note: Get the top investment trends for 2015 in medicine and technology from the former head of the most popular science magazine in the world. Simply sign up for our Tomorrow in Review e-letter for FREE right here. Don't miss out. Click here now to sign up for FREE.
The post Space Mining Heads to Congress. Plus, More in This Week's Top Five Stories appeared first on Daily Reckoning.