This post Social Media Stocks Crushed – Here's What You Can Do Now appeared first on Daily Reckoning.
Mr. Market is acting awfully anti-social these days…
That's right. The market is drowning the social media sector right now. So today I'll show you which of these former highflyers are in hot water—and which ones might make actually swim to safety…
If you've been around for a while you know we've been playing the social media trend for years now. And these stocks have been good for one thing: making a quick buck. Sure, there are quite a few worthless frauds in the space. Not every company can be Facebook, ya know.
But these stocks can take you for a helluva joyride once they find some momentum. The last time I was really bulled up on this group was in mid-February when these stocks were roaring back from the dead. We took a shot at Twitter (NASDAQ:TWTR) — which started off like a house afire.
It was up 8% right out of the gate. Then disaster struck. First quarter earnings leaked early last week. Traders panicked–and the stock hit the deck. I called it one of the nastiest earnings implosions I've seen. And I wasn't kidding.
But that was just the beginning. Pretty soon you couldn't find a pulse on most of the social media hotshots.
Have a look for yourself: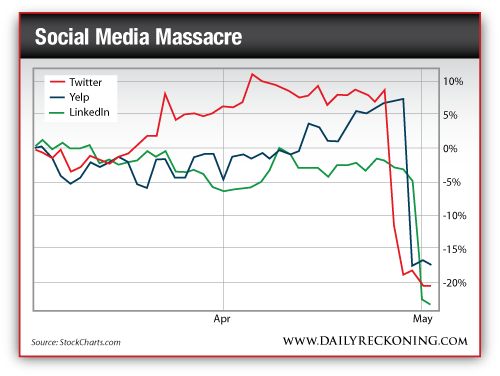 Look at that – it looks like an EKG of someone seconds away from the dissecting room. Twitter's down more than 20% over the past two months. LinkedIn is even worse—off nearly 24%. Then there's Yelp. It's only down a little more than 17% over the same timeframe.
Thing is, these disasters weren't the result of some sort of coordinated hit job. No. These companies simply tanked on crappy earnings announcements. And in case you've got a room-temperature IQ or less, you know poor earnings is not a good sign for the sector.
Sure, a couple of social media companies (including Facebook) have decent vital signs right now. But I don't want to trade many of 'em. Mr. Market's acting anti-social right now – don't get caught trying to catch these falling knives…
Regards,
Greg Guenthner
for The Daily Reckoning
P.S. The market's being anti-social. But maybe you shouldn't. If you want to cash in on the biggest profits this market has to offer, sign up for my Rude Awakening e-letter, for FREE, right here. Stop missing out. Click here now to sign up for FREE.
The post Social Media Stocks Crushed – Here's What You Can Do Now appeared first on Daily Reckoning.