This post Since You Hate These Stocks, It's Time to Buy… appeared first on Daily Reckoning.
You think you're some kind of maverick contrarian?
If so, you must have the stones to pull the trigger on a hated, beaten down stock when it comes down to crunch time.
Are you that guy?
Today we're going to find out. Because you're getting the opportunity to jump on a bruised and battered stock that couldn't catch a break just a few short weeks ago. It could even land you some quick, double-digit gains if you have the stones to pull the trigger now. And when I say hated, I'm talking about the type of stock that would make you want to heave at the thought of it…
Keeping a sharp eye on these kinds of stocks can actually let you know if a strong rally is in the works. While the mob is hurling rotten fruit at these things, they're often unlocking the key to an unexpected breakout.
And this week we're seeing a fresh batch of deeply hated stocks shake off the chains that have dragged them down for months. We've even identified a piping hot trade that's somehow managed to slip through the cracks and sneak higher virtually unnoticed—until today.
What are these putrid stocks of which I speak? Why, the transports of course…
"One of the most bullish sub-surface developments in the stock market is the surprising strength of the Dow Jones Transportation Average," Mark Hulbert explains over at MarketWatch.
Last week Hulbert noted that while the Dow Jones Industrial Average had fallen 1.6% on the month, the Dow Transports had sprinted to a 4.4% gain. A massive divergence like this obviously doesn't appear every day. And it could be sending a key market signal…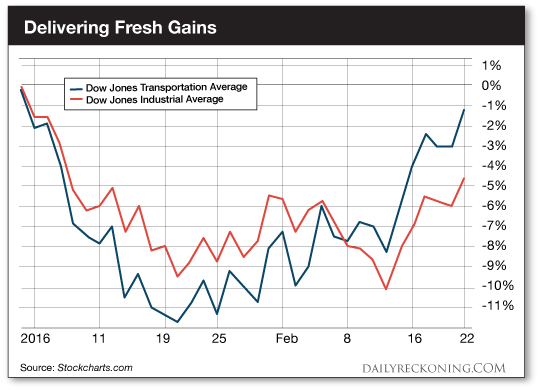 The trannies are fast erasing their year-to-date losses, while the industrials are still down nearly 5% in 2016. That's some comeback for a group of stocks that just last month had sunk to its lowest level in two years.
After helping trigger a Dow Theory sell signal back in August, these stocks sank double-digits. Screw lower fuel costs! Investors wanted nothing to do with these junked stocks…
But here's the thing: the transports have a way of telegraphing the moves of the major averages. Back in December (before the market cratered 10%), we noted that the trannies had gone off the rails. By mid-December, the Dow Transports had dropped more than 6%. That was a bad omen for the broader market.
Turns out, the transports' psychic powers were dead on. I don't have to tell you how badly the year started. And by the time the January slide crippled the markets, the trannies were already deep in bear territory.
But now, it's possible the transports' move is signaling that the market could extend its rally. We're not ready to sound the "all clear" on the markets as a whole just yet. But it's definitely worth watching…
"To be sure, the last two weeks' divergence will need to persist for some time longer in order to persuade the Dow theorists I monitor to issue a 'buy' signal," Hulbert explains. "In the meantime, though, pay close attention to the Dow Transports. If they continue to outperform the Dow Industrials, you should give an increasing benefit of the doubt to the bullish case."
And if you're the mean hombre contrarian you like to think you are, you don't just have to holster your pistol while we wait for more confirmation from the trannies. There are several compelling short-term trades popping up in this sector—even as oil continues to rebound.
Here's how we're playing this trend today…
Sincerely,
Greg Guenthner
for The Daily Reckoning
P.S. Make money in a falling market–sign up for my Rude Awakening e-letter, for FREE, right here. Stop missing out. Click here now to sign up for FREE.
The post Since You Hate These Stocks, It's Time to Buy… appeared first on Daily Reckoning.