by Ronan Manly
While ScotiaBank has sold its New York COMEX vault to MTB (MKS PAMP), it is still very much involved in the gold and silver markets.
On Monday 1 March, CME Group, which runs COMEX, made a short announcement saying that long time COMEX approved gold and silver vault operator, Bank of Nova Scotia was withdrawing its New York vault from being COMEX approved and that the withdrawal was 'effective immediately'.
The full text of the release, titled "Withdrawal of Regularity for Gold, Silver, Platinum, and Palladium" is as follows, and can also be seen at this link here:
"Notice herby is given that the New York Mercantile Exchange, Inc. ("NYMEX") and Commodity Exchange, Inc. ("COMEX") (collectively, the "Exchanges") received a request from The Bank of Nova Scotia to voluntarily withdraw their approved gold, silver, platinum, and palladium regularity at their Jamaica, NY facility. Manfra, Tordella & Brookes, Inc. will assume responsibility for the registered and eligible material at this facility effective immediately.
This withdrawal is effective immediately."
Beside JFK Airport
For those who don't know, the Scotia vault, owned by Scotia Mocatta Depository (SMD), is located right beside JFK Airport, at "International Airport Center, 230-59 International Airport Center Boulevard, Building C, Rockaway Blvd, Jamaica, New York 11413", the same location as the Agility Logistics center, and can be seen here and here.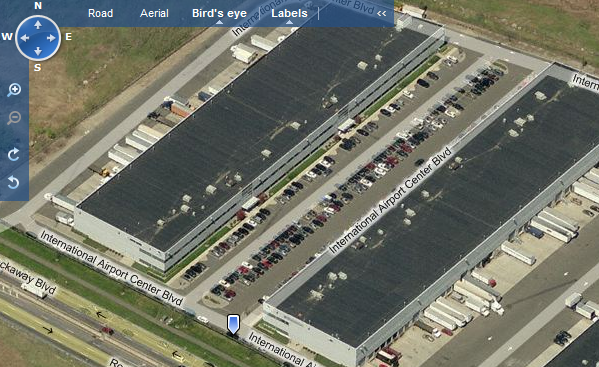 Scotia moved to this facility beside JFK Ai
rport in 2006 from a vault facility that it had been using since late 2001 under 26 Broadway in Manhattan, an old Rockefeller building. That vault facility under 26 Broadway was the former Iron Mountain Depository Corp. (IMD) vault which Scotia had acquired when The Bank of Nova Scotia took over IMD in 1997.
However, prior to September 2001, Scotia's COMEX approved precious metals vault had been in a sub-basement under 4 World Trade Centre, which it had taken over from Swiss Bank Corporation in the 1990s. Prior to the WTC implosions, WTC 4 was the home of the COMEX and NYMEX trading floors, as well as the trading floors of the New York Board of Trade (NYBOT), the Coffee, Sugar and Cocoa Exchange (CSCE) and the New York Cotton Exchange (NYCE)
Powered by WPeMatico