Rick Pendergraft:  I've written about the iShares China Large-Cap ETF (NYSEARCA:FXI) on a couple of occasions in this space, with one bullish article on March 12 and then a bearish piece on April 30.
Both of those articles were timed pretty well.
If you look at the daily chart below, the dates of those two articles are indicated with the blue arrows.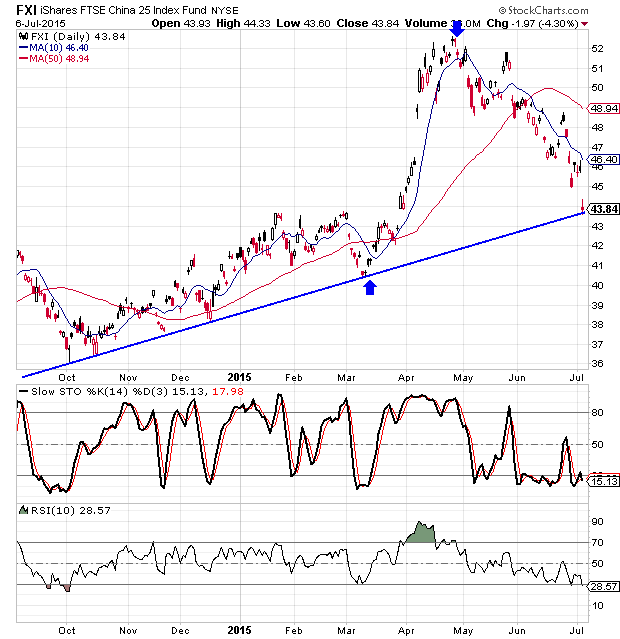 After a huge jump and a very nasty decline, the China large-cap ETF looks like it might be poised for another bounce. The trendline in the chart above is the same trendline I used in the bullish article in March. As you can see, the fund is sitting right on it again.
We can also see how oversold the fund is based on the daily stochastic readings, as well as the 10-day RSI. Both readings dropped down to a level similar to what we were seeing in March, before the big rally.
Looking at the weekly chart, we see a different trendline that goes back further in 2014, and we see a possible flat-line support area right around the $43.75 level.
This area served as resistance early in 2015 and then the fund busted through there. Now that that the fund has pulled back, the former resistance could very easily act as support now.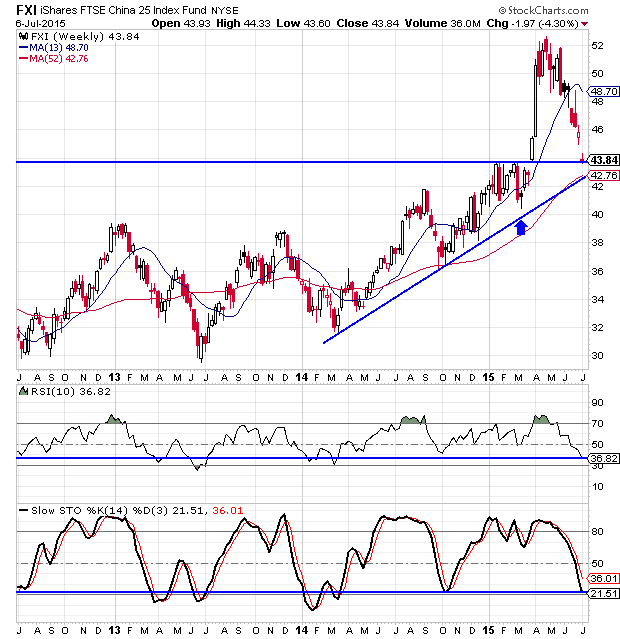 I also took note of the weekly stochastic readings, as well as the 10-week RSI. The RSI is the lowest it has been since March 2014, right before the incredible bull run of the Chinese market.