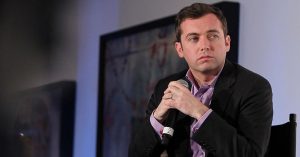 In the weeks leading up to his death, Michael Hastings expressed fear that he was being watched. And he told a neighbor that his car seemed to have been tampered with. According to counterterrorism expert Richard Clarke it was entirely possible that his car sped up dramatically because of remote programming. Hastings's death was ruled an "accident." But only his body was examined, not his car, so far as we know, and not much remained of it.
Was reporter Michael Hastings a drug-addled nutcase who recklessly or even deliberately allowed his car to jump the pavement on a straightaway, before it hit a tree and exploded? That is the official explanation of what happened to the internationally celebrated journalist who brought down a general and was involved with all manner of controversial inquiries.
Does he sound unstable in this email he sent less than a day before his car seemed to go crazy, as if it had a mind of its own?
From: Michael Hastings
Date: Mon, Jun 17, 2013 at 12:56 PM
Subject: FBI Investigation, re: NSA
To: [REDACTED] [REDACTED] [REDACTED]
Hey [5 REDACTED WORDS] the Feds are interviewing my "close friends and associates." Perhaps if the authorities arrive "Buzzfeed GQ", er HQ, may be wise to immediately request legal counsel before any conversations or interviews about our news-gathering practices or related journalism issues.
Also: I'm onto a big story, and need to go off the radat [sic] for a bit.
All the best, and hope to see you all soon.
Michael
Or how about in this interview with Jeff Schechtman, now our RadioWhoWhatWhy lead podcaster, as Hastings muses about covering presidential campaigns five months before his death? Does he sound unstable? You be the judge.
[For WhoWhatWhy's reporting on Hastings' death and his impact, see our complete coverage of the journalist, and his bizarre death, here.]
The post RadioWhoWhatWhy: Michael Hastings Mystery Death 2nd Anniversary—Late Journalist Muses on Presidential Races appeared first on WhoWhatWhy.