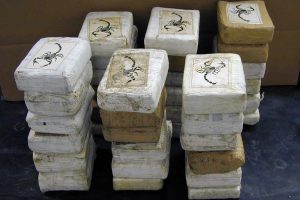 Photo credit: DEA / Wikimedia
As you may have heard, the world's most notorious gangster, Joaquín "El Chapo" Guzmán, has broken out of prison for the second time. What you may not have heard is that the Mexican government's story of the Great Escape does not quite add up.
With questions mounting over how this could have happened, and the Mexican government's credibility at an all-time low, speculative theories have flooded the Internet, from the believable to the..not so much.
In this week's Radio WhoWhatWhy Podcast, Guillermo Jimenez talks to Ioan Grillo, a journalist based in Mexico City with over 15 years experience covering crime in the country, and the author of the book El Narco: Inside Mexico's Criminal Insurgency. In this casual conversation, they explore a range of possibilities related to this colossal "blunder."
(For background on El Chapo and on the US government's unusual stance toward him, see this WhoWhatWhy article and this and this.)
The post RadioWhoWhatWhy: "If you think you know what's going on in Mexico, you're misinformed." appeared first on WhoWhatWhy.