Financialization incentivizes hot money capital flooding into speculative credit-asset bubbles.
When we speak of capital investments and capital flows, it's presumed all the capital being referenced is equal: a dollar is a dollar, wherever and whenever it's put to use.
But not all capital is equal, and that is one reason why the global financial system is far more fragile than the mainstream media lets on. Metrics such GDP (gross domestic product) don't reflect the differences in the capital sloshing around the global economy.
In the "happy story" of classical capitalism, capital flows to productive investments: the construction of needed homes, assembly of new factories, etc.–activity that returns a profit to the owners of capital and generates value and employment by filling scarcities or by increasing productivity and thus wealth.
In this "happy story" of classical capitalism, banks (and those with savings) distribute credit and saved capital to those with the most attractive creditworthiness for the lowest-risk, highest-return ventures–ventures that are presumed to be productive for end users and society at large.
Compare that "happy story" of capital seamlessly distributed to productive uses to "hot money" capital flooding into real estate in desirable cities such as Vancouver, Toronto, New York, San Francisco, Seattle, Paris, etc. This hot-money capital isn't seeking productive investments; it's seeking a safe place to park capital and a speculative gain from participating in a credit-asset bubble.
When the owner of capital buys a luxury flat in Paris, NYC, San Francisco, etc., the deployment of capital has no productive result; not one unemployed person is hired, not one new good or service is produced.
Rather, the deployment of global capital pushes the price of homes beyond what wage-earning residents (i.e. the bottom 95%) can afford. This bubble distorts and disrupts the housing market, transforming shelter into a speculative bubble.
Much of this capital may well be borrowed. If someone lays down $1 million cash for a house in North America, who's to say the money wasn't borrowed overseas?
As I have often explained, when financiers and corporations can borrow enormous sums at near-zero rates of interest, they gain access to capital and can effectively outbid savers and everyone who does not have access to the central bank credit spigot.
Borrowed capital is intrinsically prone to being hot money: capital that flits around the world, seeking a quick return or a safe haven. The "happy story" of classical capitalism fails to recognize that in terms of risk and return, long-term productive investments that generate value, jobs and address scarcities are unattractive to hot money capital.
Why put capital at risk for long-term modest rates of return when short-term trades in speculative bubbles offer much higher returns and the promise of a quick exit?
Central bank-funded speculative credit-asset bubbles undermine the "happy story" of classical capitalism's productive investing of capital. It's no mystery why productivity has plummeted– investment in productivity-increasing assets and training has plummeted.
Rather than create new wealth for society at large, speculative credit-asset bubbles distort and disrupt markets for essentials such as shelter, price out the bottom 95% and concentrate wealth in the hands of the few with unlimited access to central bank-generated credit.
Financialization incentivizes hot money capital flooding into speculative credit-asset bubbles. It does not incentivize productive investments that generate jobs or address scarcities. In a fully financialized global economy, the only scarcities recognized by hot money capital are opportunities for bubblicious gains and quick exits, and safe-havens for speculative or ill-gotten gains skimmed by the few at the expense of the many.
Hot money capital is not productive; it is destructive. The naive belief that all capital is a priori productive blinds us to the havoc wreaked by the financialization monster that has the global economy by the throat.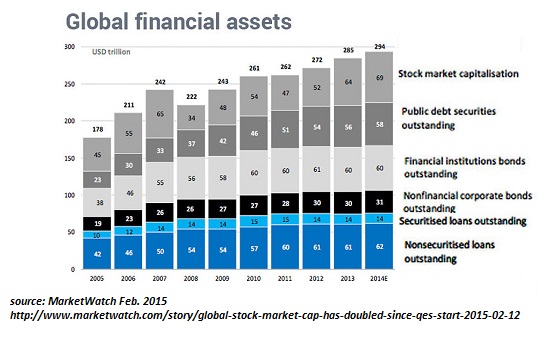 Note to readers: Life has put on a full-court press, and the pressure will remain intense for the rest of August. I am unable to respond to any email or messages, and the blog will be put in maintenance mode. Thank you for your understanding.
If you found value in this content, please join me in seeking solutions by becoming a $1/month patron of my work via patreon.com.
---
NOTE: Contributions/subscriptions are acknowledged in the order received. Your name and email remain confidential and will not be given to any other individual, company or agency.
| | | |
| --- | --- | --- |
| Thank you, Jalan C. ($20), for your most generous contribution to this site — I am greatly honored by your support and readership. | | Thank you, Oscar H. ($5/month), for splendidly generous subscription to this site — I am greatly honored by your support and readership. |
Go to my main site at www.oftwominds.com/blog.html
for the full posts and archives.
Powered by WPeMatico