Kyle Anderson: Netflix (NASDAQ:NFLX) earnings per share (EPS) of $0.38 for the first quarter badly missed estimates today (Wednesday) as analysts had projected EPS of $0.69.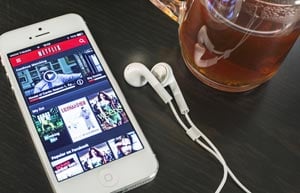 Revenue of $1.57 billion was in line with analysts' estimates. Net income for the quarter was $24 million.
Despite the wide miss, Netflix stock jumped 13% in after-hours trading. That after-hours jump values shares near $538, easily a high for the stock. NFLX's previous high was $489.29 in August 2014.  
Investors were thrilled by Netflix's global user total, which reached 62.3 million in Q1. The company had set a goal of 60 million for the end of the quarter and easily surpassed that mark by adding 4.9 million new members in Q1. Total user growth was 22.5% compared to Q1 2014.
Of the new members, 2.6 million were international compared to the company's forecast of 2.25 million. Netflix has been working to grow its international user base and today's user total is a big win for the firm. During the quarter, Netflix expanded to Australia and New Zealand. Its service is now available in over 50 countries.
More original content came online for Netflix subscribers in Q1 too. The third season of "House of Cards" as well as new shows "Unbreakable Kimmy Schmidt" and "Bloodline" were highly touted by the company.
The company blamed a strong dollar for weaker-than-expected financial results. Looking ahead, NFLX expects Q2 EPS of $0.26.
Before today's results, Netflix stock had climbed 39% in 2015 and 45% in the last 12 months. But even though the stock is red-hot, there are two major reasons we're avoiding NFLX now…
Why to Avoid Netflix Stock After Q1 NFLX Earnings Report
The first reason to avoid Netflix stock after earnings is the company's growing competition.
Apple Inc. (Nasdaq: AAPL) unveiled a streaming TV service in March that will cost users about $30 to $40 a month. The service will launch this fall and feature roughly 25 channels including CBS, NBC, and FOX.
HBO launched its own standalone service called HBO Now earlier this month.
It costs users about $14.99 per month, and is available on Apple devices.
Netflix CEO Reed Hastings said HBO was Netflix's biggest competitor in 2011. Now that competitor has entered Netflix's home market.
"Netflix has too much competition in everything it's trying to do," Money Morning's Capital Wave Strategist Shah Gilani said on FOX Business. "I don't know whether it's a tech company, a content company, or whether it's a distribution company. And in all of those areas it has plenty of competition."
Netflix did mention HBO's new service in today's report, but said that HBO and Netflix "are not substitutes for one another."
And that's not the only reason to avoid NFLX stock in 2015…
The stock is also extremely volatile.
"If you owned this stock in the third quarter, on Oct. 15 you thought, 'This is a great stock.' On Oct. 16, it opened down 25%," Gilani said. "I don't like to wake up a quarter of my investment gone.
"It doesn't produce enough cash for me, it doesn't produce a dividend for me. There's no reason to hold it especially with that kind of volatility," he continued.
Money Morning's Defense and Tech Specialist Michael Robinson agrees. The company offers a great product, but the stock is not worth the risk.