Kyle Anderson:  The Netflix stock price opened at $99.97 today after the company held a 7-for-1 stock split this morning.
Through this morning, NFLX shareshave gained 104% in 2015.
Netflix Inc. (NASDAQ:NFLX) stock closed at $702.60 on Tuesday.
When a 7-for-1 stock place takes place, the price of the shares are divided by seven.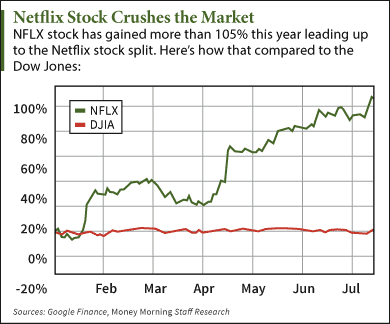 Shareholders of record as of July 2 were given six additional shares of NFLX stock for every one they owned.
Company officials announced in late June that the company would be raising its share total to 5 billion.
A big part of the reason for a stock split was to make the Netflix stock price appear more affordable to retail investors.
Prior to the split, NFLX was the seventh most expensive stock on American exchanges, according to FinViz.
It was the second most expensive stock on the S&P 500 behind Priceline Group Inc.'s (Nasdaq: PCLN) $1,169 share price.
Company officials also said issuing new stock would allow better flexibility for dividends, equity financing, and acquisitions.
While the Netflix stock price has dropped dramatically following the shift, the valuation of the shares is still the same.
And that's incredibly important for anyone thinking of investing in Netflix stock…
Netflix Stock Price Overvalued at $100 per Share
Since the valuation of a stock doesn't change after a stock price, the Netflix stock price is still extremely high.
Right now, Netflix's P/E ratio is 166, according to Nasdaq.
For comparison, Apple has a P/E ratio of 15.6, and Microsoft has a P/E ratio of 19.
Money Morning Technical Trading Specialist D.R. Barton, Jr. says Netflix has shown strong user growth and has great content, but it's just too risky of a buy now.
"Netflix stock is a little rich for my blood right now," Barton said on FOX Business in May. "I'm not a seller; I'm recommending a hold on this stock right now.
If you have it in your portfolio already, then keep it. There is some upside here, but not enough upside to put new money to work."
Another good barometer for a stock's value is its price/earnings to growth (PEG) ratio.