Chris Ciovacco: Bloomberg recently published a short Brexit Q&A.
The excerpt below pretty much sums up the level of uncertainty surrounding the monumental and unprecedented task of having a country leave the European Union via Article 50.

Brexit And U.S. Stocks
This week's video looks at the markets pre- and post-Brexit to gain a better understanding of the potential downside risks.
After you click play, use the button in the lower-right corner of the video player to view in full-screen mode. Hit Esc to exit full-screen mode.

Leadership And Execution Issues
Not only is there no plan in place for Brexit, the U.K.'s government is also in flux after Prime Minister David Cameron's resignation following last week vote.
From The Wall Street Journal:
Investors face a range of question marks following the vote, including the makeup of Britain's political leadership, the country's future relationship with the EU, the long-term impact on business confidence and investment in Europe, and the response it will prompt from policy makers and politicians around the world. "There are just so many moving bits…it's a highly uncertain future," said Mark Harris, head of multiasset at City Financial in London. "To say that I'm stunned is an understatement," he added.
S&P 500 Breaks Support Intraday
In the United States, the S&P 500 dropped out of its multiple-month trading range (green box below) during Monday's session.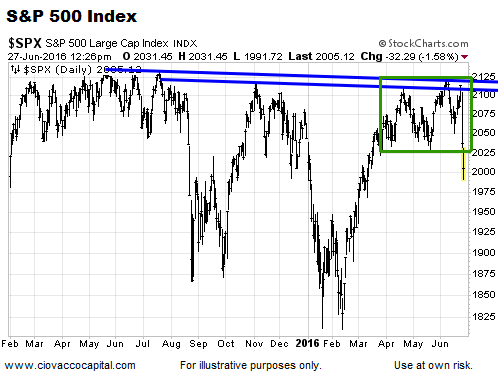 Monday's session also was marked by very strong trading volume in the S&P 500 ETF (SPY), which continues the concerning trend outlined on June 22.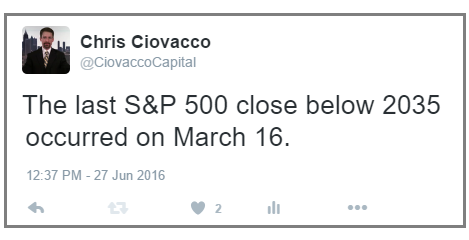 Powered by WPeMatico