Well, as we thought it might, the sell-off in stocks that started last week has continued.
The Tech-heavy Nasdaq is down -9% from last week's highs, with high flyers down much more – like Apple down -17% and Tesla down nearly -30%.
Was last week the top? Are we headed down further, perhaps much further, going forward?
This week's guest expert, Lance Roberts of RIA Advisors predicts that, while no one knows what will happen in the immediate short term, longer term risk in today's markets remains squarely to the downside.
In his assessment, the -33% plunge back in February wasn't actually a true correction, as valuation multiples for stocks didn't come down nearly far enough to matter. And of course, these multiples are back at records highs now.
Additionally, key markers still show the system is at extreme levels of over-valuation. For example, during a correction, margin debt decreases dramatically (by being retired or via default), and yet today, margin debt balances are the second-highest in history: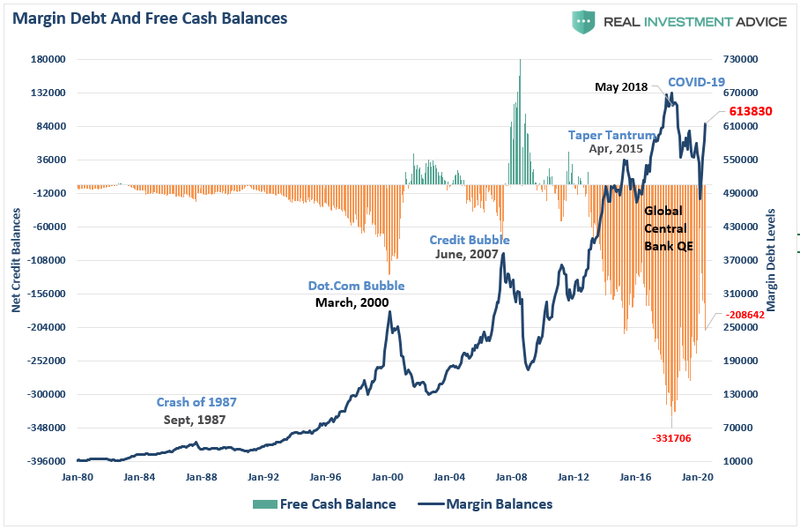 Add in the uncertainty of the fast-approaching November US presidential election — including the increasing likelihood that no follow-on stimulus package will get passed before then — and the short-term is looking dicier, too.
Lance shares his thoughts on where pockets of opportunity lie for today's investors, but his general outlook is very similar to what ours has consistently been of late: this is a time to prioritize risk management and build capital that you can deploy at better valuations once the inevitable correction arrives:
<
Anyone interested in scheduling a free consultation and portfolio review with Mike Preston and John Llodra and their team at New Harbor Financial can do so by clicking here.
And if you're one of the many readers brand new to Peak Prosperity over the past few months, we strongly urge you get your financial situation in order in parallel with your ongoing physical coronavirus preparations.
We recommend you do so in partnership with a professional financial advisor who understands the macro risks to the market that we discuss on this website. If you've already got one, great.
But if not, consider talking to the team at New Harbor. We've set up this 'free consultation' relationship with them to help folks exactly like you.
The post Market Update: How Much Lower? appeared first on Peak Prosperity.
Powered by WPeMatico